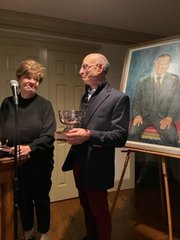 A lover of architectural history and a sense of belonging receives an award
Linda leuzzi
Victor Principe wrote two books "Images of America", "Bellport Revisited" and "Bellport Village and Brookhaven Hamlet", meticulously researched and very readable volumes with 19th and 20th century photos from private collections and accompanying captions from important places and people who lived here. He is currently working on a third. But he is also a champion of maintaining the village's aesthetic beauty and historical accuracy, and was recently awarded the Pelletreau Prize from the Bellport-Brookhaven Historical Society.
Principe, of Bellport, did not grow up in Bellport Village with its 18th and 19th century architectural allure. He grew up in Washington Heights, one of eight children, of Calabrian descent.
"People ask, 'Why are you interested in preserving things, it has nothing to do with your heritage? "I think it's just beautiful," Principe said. "Even though the culture that created this is different from where my family came from, it's just a feeling I have for this place. This whole area has basically survived.
"Victor was instrumental in documenting the history of Bellport and Brookhaven through his Arcadia books," said Tricia Foley, director of BBHS. "We use them regularly to research detail and visual references in our work at the Bellport-Brookhaven Historical Society and they are a great introduction to the area for newcomers interested in our architectural and cultural history. And he is tireless in his passion for preserving our local architecture.
He admits that while some residents love him for his passion, others don't. (He is persistent.)
"This whole area has basically survived with its appearance," he explained. "And it didn't happen on its own. You had people like Birdsall Otis Edey [president and founder of the Village Improvement Society], who convinced New York State to take Montauk Highway half a mile to the north, setting the stage for slow growth, and Stephanie Bigalow, who led a 10-year effort that helped place 80 Bellport homes on the National Register of Historic Places in 1980. Former Mayor Frank Trotta created the Bellport Historic Preservation Commission, which gave it the power to designate and preserve historic districts. They did this to make sure this area remains beautiful. You also have Elisabeth and Thomas Post-Morrow, who appreciated the beauty of nature and preserved it instead of earning money. One of the last things they did was save Loehmann's farm [now Deer Run Farm, which leases from Post-Morrow]. "
His third book in preparation is "Unhampton: Preservation and the Happiness of Place in Bellport Village and Its Environs".
"When you see certain things, you know you're here," he said. "This is what we share, a quality known as a 'sense of place' through buildings and tangible views. The purpose of this book is to explain why we love it so much. The entire book is the story of the historic preservation and conservation movement and the people who preserved and conserved this area and what they did.
Principe first arrived in Bellport in 1968 when he worked for The Gateway during the summer and built sets for his children's theater. "I didn't come back until 1976, looked at different areas and remembered Bellport as a country house," he said. "At the same time, my friend's partner bought a house on South Howell's Point Road.
Eventually, Principe moved to First Street in 1981, and then to its current home in 1993, which dates back to 1839, with his partner John Renninger.
Principe said he was surprised to be selected for the award. "I guess it's partly because of the books and I also have a reputation for trying to preserve history," he said. "Right now I'm trying to get ADA placards from the edge of a sidewalk painted black. (The ADA pads are designed for the visually impaired to feel the raised and truncated domes with their feet. It alerts them with a cane when tapping an upcoming intersection.) There are two on Bellport Lane and Pearl Street and they are Also on the wharf and on Brown's Lane, and they look terrible. Michael Foster offered to paint them, and the Bellport Village Program Fund will have them painted. "
Unsightly areas tend to become inappropriate, he said.
"To have a place like this is a treasure, so you want to preserve it. "