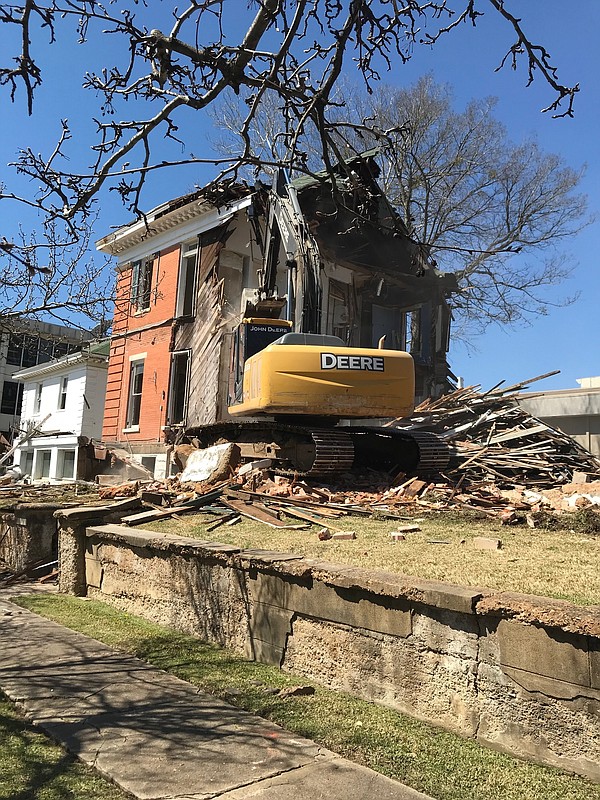 A vintage house on the Arkansas side is being demolished
TEXARKANA, Ark. — What began as a controversial demolition proposal more than two years ago became a reality Thursday at 501 Pecan St.
Wrecking crews spent Thursday demolishing the Claude Fouke House (aka Joe B. Wilson House), which was listed on the National Register of Historic Places in 1982. The house was built in 1903.
The demolition culminated in a 28-month neglect demolition period, which began after an estate sale in late November 2019.
By 2019, the property, owned by Beech Street First Baptist Church, had become financially impossible to maintain, given the level of upkeep required. The chances of reselling it to another owner were slim.
The church began considering demolition proceedings, but in June 2021 the Historic District Commission voted unanimously to deny the church permission to demolish the house, even though the church owned the property. .
City Manager Jay Ellington said the commission's decision can be followed by a six-month period during which the city, the public and any other interested parties can make submissions regarding the future of the house. However, in the absence of anything, the church went ahead with applying for and receiving a demolition permit from the Department of Public Works.
"We went through the proper channels with the city, and in January the city granted us a demolition permit," said a worker at Beech Street First Baptist Church, who asked not to be identified. "We had the house for several years and used it to hold meetings and classes."
Nonetheless, Texarkana Museums System Board Chairman Velvet Cool said the demolition was a disappointment.
"This house was the last of three similar houses, built in a row, along Pecan Street, and they were all built in the same style," she said. "These three houses were very impressive, but now, with the last one gone, we have now lost a very important part of our architectural history."