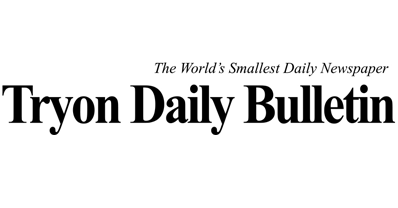 An appreciation of Jerry and Joy Soderquist – The Tryon Daily Bulletin
Remember when
After my interview with the Tryon Historical Association, a Mrs. Burke stopped by my car window to suggest that I sometimes write about people who are still living. I wrote about John Vining quite recently; now I'm going to tell you a few words about friends Jerry and Joy Soderquist.
I met them when they were planning the Sherlock Holmes Festival which developed around my suggestion to Tryon Little Theater to schedule a 100th anniversary performance of the play in which William Gillette starred in 1899 as Sherlock. We have Gillette's pipe and slippers at the Polk County Historical Association Museum in Columbus.
Joy asked Linda Campbell to prepare a "Mrs. Hudson's Breakfast "at the Congregational Church. Fran and I enjoyed the sumptuous meal of period English cuisine including the scones. Joy made a point of informing me of the rest the following year. Yum!
Jerry then got involved in the development of "Nanotechnology" and Fran asked him to explain. She told him that she understood that it was something very big or very small. Jerry's explanation began by assuring him that nanotechnology deals with extremely small (read microscopic) materials and methods.
Joy is now the Historian of the Tryon Garden Club. We have exchanged several emails recently regarding Pearson's Falls. She clarified certain things to me in a column that I was writing. I also note that Jerry is another special man authorized to belong to the Tryon Garden Club.
Jerry is the founder and CEO of the Tryon Archival Research Center. Tryon's cemetery needed a lot of TLC; I understand that Jerry joined the team of volunteers who provided him.
Several years ago, I stopped by to visit Harry Goodheart in his bookstore at the bottom of School Street. I bought a book and left him some of mine to sell. I wish I could remember what we talked about!
I see from an ad in the New York Times that a cover of "The Music Man" by Meredith Wilson will debut on Broadway in December. I well remember the Wilson's marathon efforts to get it produced and how it quickly became Americans' favorite show. Each band plays their "Seventy Six Trombones" and many of their songs have been hits for a while.
"Music Man" was "old-fashioned" then and is even more so now. But it speaks to us old folks who love singable tunes and remember singers like Bing Crosby and the "Hit Parade" on our radios.
Anna Marie Kuether used to bring her Polk County High School choir to sing for us at public gatherings; now she has moved with Dave to South Carolina. She is a church music minister there.
The Community Choir canceled again. I saw Richard Hall recently; he said no, he hadn't taken the Steinway grand piano out of its box for two or three years. The Covid destroyed almost everything, didn't it?
Libby Vining Hanifin emailed me that John Vollmer had built a rock wall for her. Eloise Johnson sent an email that Bud Pace was a Mason; I knew it but failed to include it. I am truly grateful to knowledgeable readers who promptly notify me of necessary additions or corrections.
I assemble these columns into books of a hundred of them. I then place copies of the books in local libraries for people to refer to maybe 50 years from now. The books can also be found in the Historical Museums of Polk County and Tryon.
I don't pretend to be a historian. I could be, but I'd rather be just a storyteller. I like to tell stories about the characters that I know / have known. And everything reminds me of a story!
I have to write about my late friend Martha Bishop Wheeler, who passed away on November 24, 2021. Later!
Garland would like to hear from you at 828-859-7041 or [email protected].