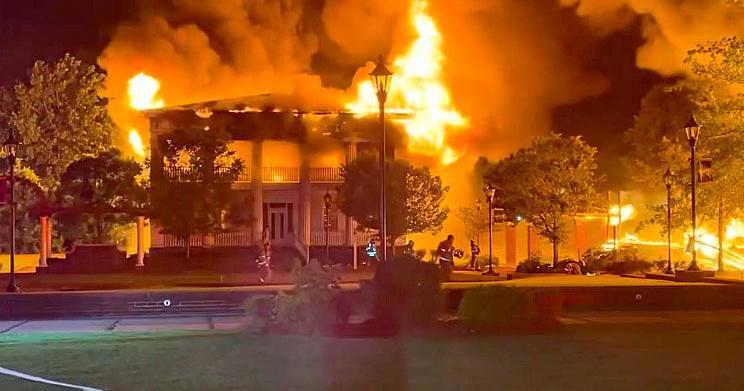 Arson suspect in Morrow's The District, $10,000 reward offered for information | New
MORROW – Morrow Police are offering a $10,000 reward for information about the person or person suspected of burning down The District, formerly known as Olde Towne Morrow on Saturday morning.
According to police, it took Morrow and Clayton County Fire Departments several hours to extinguish the blaze which spread to three historic homes on the property. Acting Morrow Police Chief David Snively said the district was a frequent target of vandals.
"Our detectives have successfully identified several former offenders, including an attempted arson; and we will work tirelessly with fire investigators to determine the exact events surrounding this incident as well," Snively said in a statement.
Morrow Fire Chief Roger Swint said the location and intensity of the fire were suspicious.
"Early indications suggest this fire was likely the result of arson or arson by one or more people."
Swint requested assistance from the state fire marshal's investigative unit, which will include the use of canines to determine the origin and cause of the fire.
City manager Jeff Baker said two of the buildings had been under contract and architectural plans were being reviewed for two others for commercial space.
He called the loss a devastating setback as well as a tragic loss of history referring to the Napier-Small House, an 1846 Greek Revival house listed on the National Register of Historic Places.
"This is a very sad day for our community," Mayor John Lampl said.
He said the district has become an important community gathering space, home to many civic events and the site of several new businesses.
"The loss of these beautiful historic homes in the heart of our city is a huge blow to residents and community members who use this area," Lampl said. "We mourn with our community and with the business owners who invested their dreams in this place; and we are committed to identifying and holding accountable anyone involved in the catastrophic damage caused by this fire.
The fire broke out around midnight on June 4. At approximately 8:45 p.m. on June 3, police said a group of individuals had been in the area of ​​The District.
Anyone with information about the fire or those seen around the location hours prior is asked to call the Morrow Police Department at 770-961-4006 or Georgia Arson Control at 1-800-282-5804 .