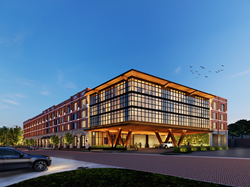 Auberge Resorts Collection appointed to manage Bowie House, a new luxury urban retreat in Fort Worth, Texas

MILL VALLEY, Calif. (PRWEB)
October 27, 2022
Auberge Resorts Collection, the award-winning portfolio of one-of-a-kind luxury hotels, resorts and residences, has been selected by Jo Ellard, President of Bowie Place Properties, to manage Bowie House, a new urban retreat in Fort Worth , Texas. Scheduled to open in late 2023, the hotel will be located in the heart of the city's vibrant cultural district, home to one of America's finest museum collections. When it debuts, the luxury boutique hotel will be the first of its kind in the area, anchoring a 30-block promenade of museums, restaurants and unique shops.
Located in one of Fort Worth's most iconic neighborhoods on Camp Bowie Boulevard, a major and historic corridor that runs directly through the city's cultural district, Bowie House, Auberge Resorts Collection will embody Fort Worth's western personality with a twist. modern. Close to the cultural district park setting of world-class and architecturally-acclaimed museums, Dickies Arena and the Will Rogers Memorial Center, famous equestrian and event facilities that attract millions of visitors each year, Bowie House will be a jewel in the crown for the community, further anchoring Fort Worth as an exciting urban destination for local Texans and discerning travelers from around the world.
"Fort Worth is a culturally rich gem brimming with unique Texas experiences, from its famous Stockyards neighborhood to the famous Kimbell Museum of Art. We are thrilled to help open this city up to global travelers with a one-of-a-kind luxury hotel experience befitting such an incredible destination," said Dan Friedkin, President of Auberge Resorts Collection. "Bowie House will be modern and luxurious, yet local and full of character."
Renowned architectural and interior design firm BOKA Powell has been selected to lead the design of the Fort Worth luxury hotel. With a vision guided by Ellard's deep connection to the city, the design elements will speak to the city's signature charm and sophistication. Rich, traditional Texas finishes and traces of Spanish architecture will reflect the premises, while the collected and quirky furnishings and decor, curated by Ellard herself, will feel very personal and embody the vision of a true local. from town, naturally establishing the property as a Texas getaway.
The four-story, 106-room boutique hotel will feature 88 rooms and 18 suites, including a 2,250-square-foot signature suite. Global in design, yet familiarly local in their finishes and details, the rooms will feel like a sophisticated version of a Texas private home. Local Western flavor will be woven into each room with curated artwork and artifacts from some of Texas' most notable artists and artisans.
Owner Jo Ellard notes, "I envision a hotel that embodies the history and culture of Fort Worth, that respects and pays homage to the western lifestyle that makes Fort Worth so special, and that embraces cultural sophistication and diversity for which the city has become so famous. Our hotel will integrate all these elements in a luxurious and welcoming setting. Fort Worth Mayor Mattie Parker said it best at the Bowie House grand opening: "Bowie House Hotel is what the past, present and future look like in Fort Worth." Fort Worth is a very special city. I live in Dallas, but I love Fort Worth.
Camp Bowie Boulevard's roots date back to World War I, when the area was established as a training camp for soldiers and specialists of the 36th Division. Named after Alamo defender James Bowie, Camp Bowie's military layout was later replaced with homes, churches, and storefronts. Even through the evolution of the area, it has retained much of its history in the local businesses and original monuments that still function today. Previously home to Rick's On The Bricks, a locals' and visitor's favorite restaurant, and later a popular pub, The Ginger Man, the Bowie House Hotel itself is a well-known site – its friendly social space is once again a haunt cherished for all who visit.
On the ground floor, a colonnaded lobby will maintain the building's traditional classical architecture and welcome guests and locals with an array of places to congregate and socialize. Dining options will include an exclusive restaurant facing an enchanted private garden with terrace, a relaxing lobby bar and lounge, and a terrace bar. Near the restaurant, a billiard room with billiard tables and games will provide a fun place to relax, ideal for private meetings. Additional social spaces will include an intimate rose-lacquered library, a fireplace lounge, and a spectacular grand ballroom that will be one of the most elegant event spaces in Texas.
The hotel will also have a boutique, carefully curated to offer one-of-a-kind treasures, a barn-inspired spa, fitness center, outdoor pool and bar. Inspired by Texans' love of all things outdoors, the pool deck will soar over a second-story deck completely buried in nature. There you can relax in private cabanas and order drinks and light fare from the poolside bar.
Outside, the hotel's impressive gardens will feature hedges and flowers that clamber over the walls and pergolas to make the dining and pergola areas feel completely surrounded by nature. Plush seating and event spaces will be accented with fireplaces, fire pits and water features to create a lovely surprise around every corner.
Bowie House, Auberge Resorts Collection will offer unique Texas-inspired experiences both on and off property. Fort Worth itself offers an easily walkable destination where guests can explore the Cultural District on foot, as all five museums, world-class equestrian events at Will Rogers, and special events at Dickies Arena are within walking distance. A day trip to Fort Worth Stockyards, a National Historic District, will welcome you to an authentic Western experience of saloons, cattle drives, unique restaurants, dance halls and the finest retail in the West. Other nearby attractions, like the Fort Worth Botanical Gardens, Fort Worth Zoo, National Cowgirl Museum and Hall of Fame, and Botanical Research Institute of Texas, and outdoor activities, like jogging or biking along the 100 miles of Trinity Trails, offer accessible family activities.
Bowie House, Auberge Resorts Collection will be the brand's second property in Texas, following Commodore Perry Estate, Auberge Resorts Collection in Austin. The hotel will open in late 2023. For more information, please visit hostelresorts.com/bowiehouse or connect with the hotel on Instagram at @BowieHouseAuberge.
About Auberge Resorts Collection

Auberge Resorts Collection is a portfolio of extraordinary hotels, resorts, residences and private clubs. While each property is unique, all share a handcrafted approach to luxury and bring the soul of the place to life through captivating design, exceptional cuisine, innovative spas, and gracious yet understated service. With 23 one-of-a-kind hotels and resorts, the Auberge invites guests to create unforgettable stories in some of the world's most desirable destinations.
For more information: aubergeresorts.com

Connect with Auberge Resorts Collection on Facebook Twitter and Instagram at @AubergeResorts and #AlwaysAuberge
About the Friedkin Group

The Friedkin Group is a private consortium of automotive, hospitality, entertainment, sports and adventure companies. These organizations include: Gulf States Toyota, GSFSGroup, US AutoLogistics, Ascent Automotive Group, Auberge Resorts Collection, AS Roma, Imperative Entertainment, 30WEST, NEON, Diamond Creek Golf Club, Congaree and Legendary Expeditions. The Friedkin Group is led by Chairman and CEO Dan Friedkin. For more information, visit
http://www.friedkin.com.
Media Contact

Murphy O'Brien

[email protected]