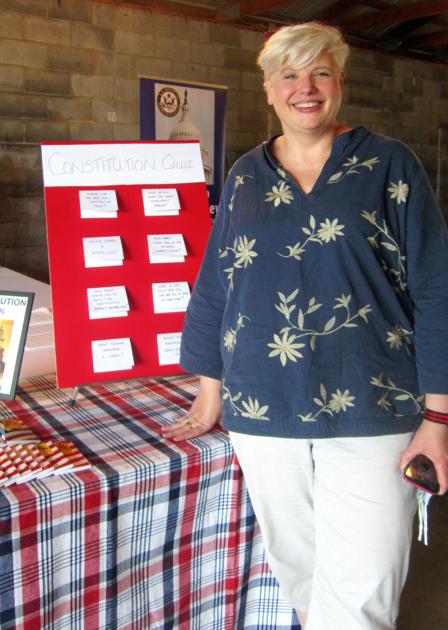 Bee Line DAR: Fun, family and fair | Newspaper
When it comes to celebrating the essence of rural America, nothing compares to attending a traditional County Fair. Combining elements such as family fun, friendly competition and a carnival atmosphere, the fair is a late summer festival built around simple pleasures and hard work, making it an ideal venue for women of the world. Bee Line chapter of the National Society of the Daughters of the American Revolution (DAR).
Heidi Ware, Bee Line Registrar and Fair Board Member, led the effort to take back a "corner of history" for this year's fair. Sharing a booth with General Chapter Adam Stephen of the National Society Sons of the American Revolution (SAR) and Friends of Happy Retreat (FoHR), these heritage-based groups offered festival-goers a range of information on how they serve the community. History and education are priority issues for all three groups.
Bee Line provided materials designed to encourage residents to learn more about their community and nation. These included free copies of the Constitution, documents and posters on significant historical events, and information about Bee Line's collaboration with FoHR to create a colonial herb garden near the estate's kitchen. Other resources distributed by the chapter featured historical summaries of major commemorations currently being seen, including the 100th anniversary of women's suffrage, the Mayflower Charter, the 200th anniversary of the Santa Fe Trail, Independence Day, and the role of women during World War II.
In addition to hosting the booth, our members served the fair as volunteer and assistant department superintendents, as award sponsors, in administrative roles, working with 4-H groups, as judges for a wide assortment of exhibits and in many more -the roles of the stages that help the fair run smoothly. For example, one of our members machine embroidered many cloths, blankets and canvas chairs given to the winners of the special prizes at the fair. Another helped edit the main fair program and other related materials to ensure the public had access to the best information possible.
An important aspect of the fair is the way it brings families together for a very special and very American experience. Like other members of the community, Bee Line members generally attended the fair as part of a large family. Several generations participated together – grandparents, parents and children – as well as couples and extended family. Adults provided guidance and expertise to the children in their lives, helping them master a wide range of skills and talents. Thus, individuals worked together at least as much as they competed with each other.
Fairgoers also took advantage of old-fashioned opportunities to just have fun by participating in karaoke or participating in competitions ranging from eating marshmallows, blowing gum bubbles, throwing balloons. hay or pull mini tractors. The members of Bee Line, their children and grandchildren, as well as their nieces and nephews were in the middle of it all!
Several Bee Line Daughters and their families also participated as exhibitors. In total, the Bee Line families have won over 180 ribbons in categories as diverse as horticulture, garden vegetables,
photography, baking, food preservation, herbs, needlework, various 4-H grades and livestock. Our members and their families won the Best of Class award for candy, pies, sepia photography, herbal remedies, 4-H camp crafts, and rabbit farming. They won the Best of Show Overall Award in Photography and Crafts from Camp 4-H Cloverbud. They have also won prizes for the great world champion Hereford, Hereford Bull Calf and Hereford Cow / Veau Pair.
In the group quilts category, the Bee Line chapter itself received a red ribbon for its heritage quilt, "E Pluribus Unum," which represents chapter members and their War of Independence ancestors. Several members were involved in making the quilt, which also won awards from the American Heritage Committee at the recent West Virginia DAR State Conference.
The Daughters of the American Revolution is a service organization dedicated to historic preservation, education and patriotism. Any woman 18 years of age or older, regardless of race, religion, or ethnicity, who can prove she is descended from an American Revolutionary Patriot line is eligible for membership. If you would like to learn more about DAR and its community-serving projects, please contact [email protected]