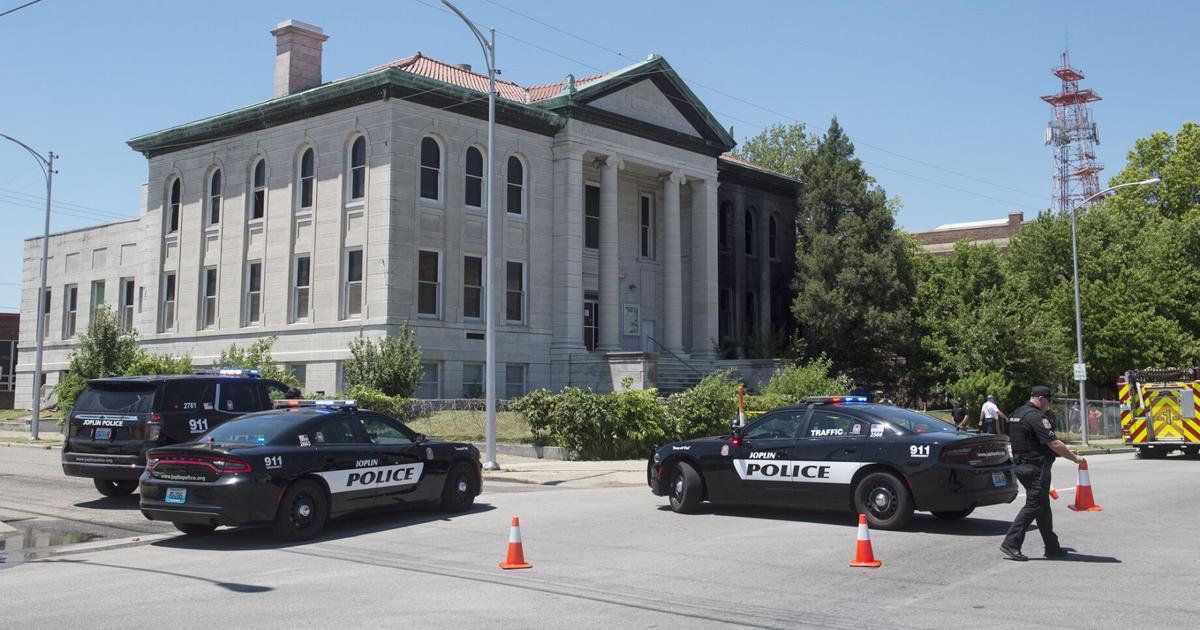 Carnegie Library on Missouri's Peril List | Local News
The Carnegie Library in Joplin has been placed on the Missouri Places in Peril list.
Places in Peril is an annual list of endangered historic places in Missouri compiled by Missouri Preservation, a grassroots conservationist organization that advocates saving ancient structures in danger of disappearing.
Places on the list are nominated by those affected and decided by a committee of preservation advocates, according to information provided by the organization.
The construction of Joplin's first library in 1902 was funded by a $40,000 grant from industrialist and philanthropist Andrew Carnegie. A tax voted by the voters of Joplin paid for the operation of the library.
Historic preservation authorities say it was one of the first libraries in Missouri to be donated by Carnegie, known for his philanthropic efforts toward building libraries. Carnegie gave $40 million of his fortune to cities across the country to pay for more than 1,600 libraries between 1886 and 1919, according to the National Park Service, which maintains the National Register of Historic Places.
Joplin's two-story building was designed by a regionally renowned architect, August Michaelis, who chose the neoclassical design style using world-renowned Carthage marble.
In 1916, a two-story addition was built and a skylight added above the original structure. This ended up creating problems.
In the 1960s, a structural analysis determined that the second floor was not capable of supporting the weight of the books from the upper floors. This ended the use of these floors for book storage and eventually led to the construction of a library at 302 S. Main St. in 1981.
After the Main Street location opened, the contents of the Carnegie Building were auctioned off and the building was sold to a private landlord who used portions of it for apartment rentals.
In the 1970s, the Carnegie Building was listed on the National Register of Historic Places.
Since then, the building has been periodically vandalized. But despite several decades of vacancy, an assessment of the building earlier this year found there were relatively minor issues for a 120-year-old building, according to Jill Halbach, executive director of the Post Art Library. This raised the hopes of those who were pleading for a project to acquire the building by a local non-profit association.
During these negotiations with the landlord, a fire of suspicious origin broke out in the basement, resulting in what authorities described as severe damage.
Halbach said the Post Art Library submitted the nomination to Places in Peril. She said there were several reasons why the building should be saved.
"I think it's important architecturally, and it's important because it's a Carnegie library and not every city has a Carnegie library," said Halbach, who is also president of the Joplin Historic Preservation Commission.
Libraries are important institutions because "usually it's where anyone can go for education or entertainment," she said.
It is also significant to Joplin because of its ties to the self-taught Michaelis, whose architectural services became in high demand in the Midwest and were used for a number of other locally significant buildings during this period. These include Joplin's Memorial Hall, First Presbyterian Church, the Christman Building at Fifth and Main streets, and a former Joplin High School building that stood at Fourth Street and Byers Avenue.
Having it listed on Places in Peril draws attention to properties in need for those wishing to invest in historic places.
"It has helped us with buildings in our community," Halbach said. Union Depot was listed last year and Olivia Apartments was placed on the list in 2020 just before it was purchased by the current developers. Bykota REI and Blue Haven Homes.
The list is important because "it engages more people and fosters collaboration and that's what it usually takes to save a building," Halbach said.
The need to try to find a future for the building is more pronounced now because of the fire, according to Halbach and Lori Haun, executive director of the Downtown Joplin Alliance.
"At the time of the fire, negotiations were underway between the owner and a non-profit organization" which was then interested in acquiring the building, Halbach said. These negotiations ceased after the fire.
"Obviously the fire put him in more imminent danger," Halbach said.
Haun said the Olivia building was listed just months before it was damaged by fire in December 2020.
"We think it's important," Haun said of the Carnegie Library. "It's a Carnegie, which is quite unique," and like the Olivia, it was a public building that played a role in many people's lives.
Asked how best to reuse the building, Haun said it was probably more suitable as a public destination, such as for educational purposes.
"It's got a good square footage and apartments probably aren't suitable because you don't want to divide it with too many walls," Haun said. "You would lose some of the structural integrity of the building."
The downtown alliance can help move a project forward.
"We really think it's a building worth saving, and we'll do everything we can to help," Haun said.