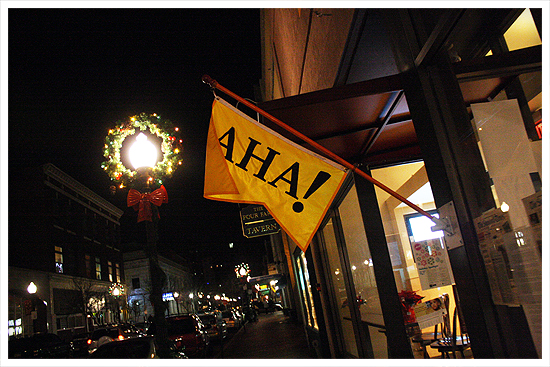 City Sidewalks A free + festive evening in downtown New Bedford on Thursday, December 9
[ad_1]
AHA! (Art, History, Architecture) is a free cultural showcase for New Bedford's creative community, making arts, culture and creative expression accessible to all. Over 60 community partners come together every other Thursday evening to present a festive and fun adventure for all ages. This month it's all about the festive "city sidewalks" and the boutiques, artists and restaurants that bring them to life. For a full list of events, visit ahanewbedford.org. AHA! events are free on Thursday December 9 and listed in chronological order.
New Bedford Whaling National Historic Park, 33, rue William, 10 a.m. to 4 p.m.
Celebrating its 25th anniversary, the Visitor Center invites you to discover the heritage of the world's first whaling port in the 19th century.
New Bedford Art Museum / Works of Art !, 608 Pleasant Street, 10 a.m. to 8 p.m.
Showcasing the best local and regional artists, explore the annual members' exhibit, with works selected by guest juror Stephanie Haboush Plunkett, Deputy Director and Chief Curator of the Norman Rockwell Museum.
New Bedford Fishing Heritage Center, 38 rue Béthel, 10 a.m. to 8 p.m.
Salty Santa will make an appearance starting at 6 p.m. on this open house celebrating New Bedford's fishing culture. Evening activities include ornament making and a 10% discount at the gift shop.
TL6 The Gallery, 100, rue William, from 12 p.m. to 8 p.m.
This one-of-a-kind boutique features affordable personalized artwork and unique gifts from over 20 local artists – come see their holiday additions, including vegan soaps from Miriam's Wellspring.
Judith Klein Gallery, 127 West Rodney French Blvd, 4:00 p.m. to 8:00 p.m.
Celebrating their 13th anniversary, AHA! Night features two artists, the fibrous art by Laurie Steger and the sculptures by Marita Torbick located on the second floor of Kilburn Mill in Clarks Cove.
Rotch-Jones-Duff House & Garden Museum, 396, rue du Comté, from 4:00 p.m. to 6:00 p.m.
It's 'Christmas on County Street,' where you can go to see the ornate halls of the historic mansion and hear the guides talk about the holiday customs held by the famous former residents of the house.
Selfies with Santa Claus, 128 Union Street, 5-7 p.m.
The United Way of Greater New Bedford Family Resource & Development Center will host "Selfies with Santa" in the lobby of DeMello International Center.
Brass Band SouthCoast, Stroll in the city center from 5 p.m. to 7 p.m.
New Bedford JazzFest presents the joyful and moving marching band dedicated to the traditions of jazz and funk that radiate from New Orleans.
Performing art studios, Stroll in the city center from 5 p.m. to 7 p.m.
Young aspiring artists will perform short plays, including a "Twas the Night Before Christmas", as well as Christmas carols throughout the city center.
Oxford Creamery oxcart, Customs Square, 5 p.m. to 7 p.m.
Oxford Creamery's food truck, the Oxcart, will serve hot chocolate and cookies by the Custom House Square fountain, courtesy of the First Citizens Federal Credit Union.
Gallery X, 169, rue William, 5 pm-9pm
Come celebrate over 30 years of contemporary art exhibiting in New Bedford with the "32nd Gallery XMAS Show", featuring local artists from all walks of life. Singer-songwriter Molly O'Leary will perform excerpts from their debut studio album "Holding Space" from 7pm to 9pm.
Alison Wells Gallery and Art Studio, 116, rue William, 5:30 p.m. to 7:30 p.m.
Shop for local art while listening to the AHA! Concert by Montage Bleu, a dynamic acoustic duo with multi-instrumentalists Annette Almeida & Kim Mitchell.
Nathan & Polly Johnson House, 21 7th Street, 6:00 p.m. to 7:00 p.m.
Come for an AHA! holiday visit to this national historic monument and site of the Underground Railroad which housed many freedom seekers during the anti-slavery period. Decorated in Victorian finery, learn about the stories of remarkable visitors who spent their first 'Christmas in the wild' here.
New Bedford Whaling Museum, virtual presentation
Online via the Zoom registration, 6:00 p.m. to 7:00 p.m.
Learn about the changing New Bedford cityscape in the 20th century with the curator of maritime history, Michael P. Dyer, and a panel of local historians, who will provide first-hand accounts of a dynamic period from the 1930s to the 1970s.
UMass Dartmouth CVPA Star Store, 715 rue de l'Achat, 6 p.m. to 8 p.m.
"Nancy Holt: Massachusetts" explores the history of Nancy Holt's family in New Bedford, where her grandfather Samuel Holt was a faculty member at New Bedford Textile School and her aunt Ethel lived on Locust Street.
Afro-Algonquin Ensemble, 71 8th Street, 6:30 p.m. to 8:00 p.m.
The First Unitarian Church presents Lee Mixashawn Rozie, Native American and Native jazz saxophone and flautist, with bassist Wes Brown and percussionist Royal Hartigan.
Children's choir from the south coast, 33, rue William, 6:45 p.m. to 7:15 p.m.
Young singers in grades 1 to 12 sing happy holiday songs outside in the garden at New Bedford Whaling National Historic Park.
Co-creation center, 137 Union Street, 7 p.m. to 8:30 p.m.
Acclaimed New Bedford singer-songwriter Sarah Donner performs songs from "She Makes Waves," a collection of songs about serious women, corsets, whalers and gays who made the world a better place , a better place. With the support of New Bedford Whaling National Historic Park, the first 50 people in attendance will receive a free vinyl copy.
The schedule and program guide are online at ahanewbedford.org
[ad_2]