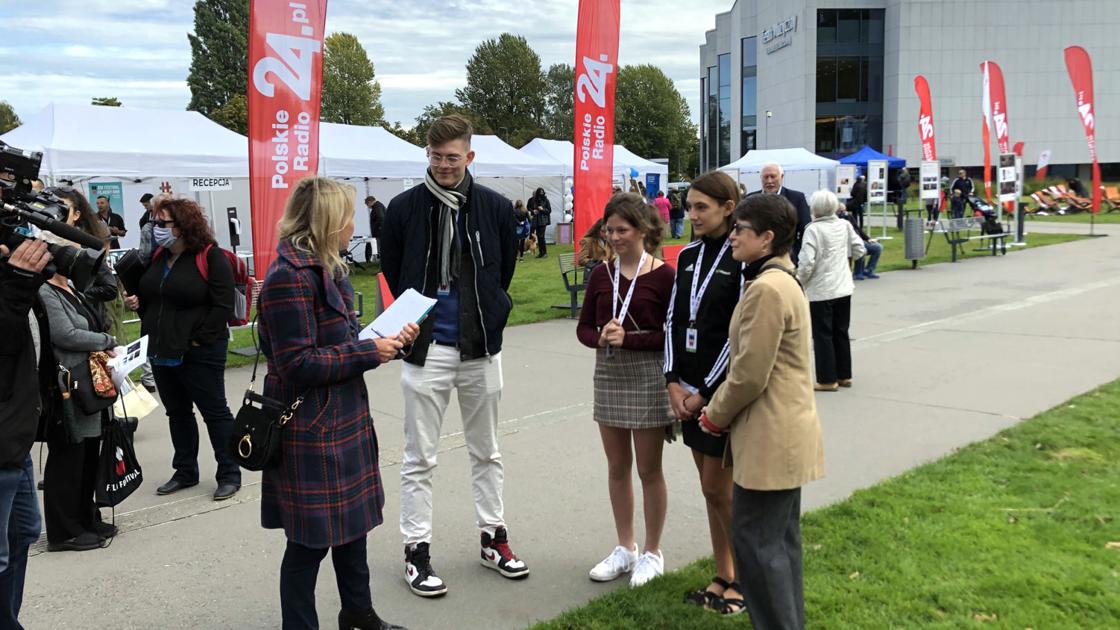 Clayton-Bradley Academy students present historical documentary in Poland | New
Just weeks before the start of the autumn break, eighth grade students Katia Biegalski and Ellie Wood received an unexpected invitation to Poland.
Fortunately, they already had passports and COVID-19 vaccines, so they were able to travel with teacher Liz Shugart to present at an international film festival a documentary they created last year.
Clayton-Bradley Academy students' 10-minute documentary chronicles the Ringelblum Archives, thousands of documents collected in the Warsaw Ghetto from 1939 to 1942 showing the life of Jews under the Nazis, including articles such as newspapers intimate friends, ration cards and artwork.
The girls spent the past school year researching, creating, and editing their documentary for the National History Day competition, winning the state runner-up for junior group documentary and qualifying for the national competition. in June.
In 2018, another group of ABC students were invited to present a performance they created for NHD at the same festival, but Shugart said it was the first time that students still in college were guests.
The festival focuses on the era before WWII until the Soviet occupation, and the name "Niepokorni Niezłomni Wyklci", according to Google Translate, means "unrepentant, steadfast, cursed".
Shugart said: "It's pretty hard, even for high school kids, to see the suffering that an entire country has endured."
With COVID-19, the organizers of the NNW Festival did not know until September if this would continue, and another guest group from Nebraska could not attend because they were not fully vaccinated.
"It all depended on whether these girls had passports ready to go and they were vaccinated," Shugart said.
Lingo and pierogi duo
Shortly after they left on September 27, Katia used the Duo Lingo app, which they sometimes use for Spanish at school, to learn as much Polish as possible.
When their flight arrived in Gdansk and two men on the plane helped the girls with their suitcases, she said "Thank you" to them in their language.
"They seemed very happy that the Americans were able to speak to them in Polish," Katia said.
For their first meal, they found pierogies, with Katia going for a vegetarian version of potatoes and Ellie going for a spicy Thai chicken version of the Polish dumpling.
As part of the festival, they were interviewed by journalists, walked a red carpet and attended a gala.
"They were like celebrities," said their teacher.
Among the winners of the gala was Maria Mirecka-Lory, 105, a member of the Polish Resistance during World War II, who marched to the stage.
"She was considered a national treasure in Poland," said Shugart.
Part of the festival is the Polish equivalent of National History Day in the United States, and ABC students presented their documentary on a large outdoor screen in this section.
In touch with history
The hotel they stayed in is in the area where the Warsaw Ghetto was located during WWII. A young guide and translator who helped them grow up in the city and provided a bit of history to complement the museums they visited.
"Kasik told us the history of Poland in 20 minutes, like a thousand years in 20 minutes," remembers Katia.
The girls were struck by the expanse of time, such as the visit to St. Mary's Basilica in Gdansk, construction of which began in the 1300s.
After learning so much about the difficult history like 80% of Warsaw destroyed and half of the population killed, they were all struck down by the people who preserved their culture and told their stories not with anger but to be heard .
Shugart said: "I was a little overwhelmed by the magnitude of what we were seeing in these museums and what we were hearing."
"Especially in Warsaw," Katia intervened.
"I just kept trying to find, if I could, beauty in everything else," Shugart said. "It's always there in people's hearts."
The students, who walked through a replica of the sewers used to escape during the Warsaw Uprising, developed a greater appreciation for the Ringelblum archives.
"It kind of opened our eyes to how it really helped tell the story of the people of the Warsaw Ghetto," Ellie said.
Katia noted that those who compiled and hid the documents risked their lives, with only three surviving when the war ended. "It really showed that their minds cannot be crushed and that they will do whatever they can to keep their culture and history alive," she said.