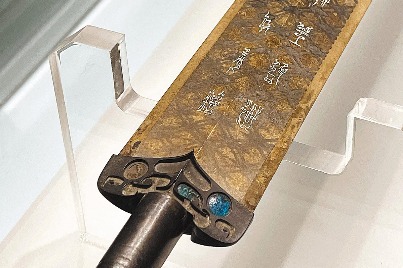 Digital copies of the famous sword sell out in seconds
By CHEN MEILING in Beijing and LIU KUN in Wuhan | China Daily | Update: 2022-01-04 09:24
Internet users are starting to appreciate the virtual value of online versions of historical artifacts
Historical artifacts are generally priceless, fragile, and should not be touched. But nowadays curious visitors can view them, play with them, and make them part of their personal collections, all for just 19.90 yuan ($ 3.10).
At the end of October, digital versions of Gou Jian's sword, one of China's most important historical artifacts, which has retained its sharpness and whose patterns remain clear after more than 2,000 years, sold out in seconds. .
Since its discovery in Hubei Province in 1965, the sword has been one of the prizes on display at the Hubei Provincial Museum in Wuhan, the provincial capital. Covered with delicately engraved inscriptions, mysterious black diamond patterns, and blue and turquoise inlays, it is an example of the advanced design and production techniques used to craft weapons during the spring and fall period ( 770-476 BC) and originally belonged to a famous king of the State of Yue.
The digital version, co-developed by the museum and tech giant Alibaba, retains all of the details of the original. Viewers can zoom in on a perfectly restored version after paying the 19.90 yuan fee through the Alipay platform.
"Over 600,000 people rushed to buy 10,000 digital copies of the sword, which sold out in three seconds!" Wang Xianfu, deputy director of the museum, said, adding that he did not expect the offer to be so popular. "I didn't even have one for myself."
The idea of ​​digital replica is a concept based on the use of NFTs, or non-fungible tokens, which give each electronic work an authentication certificate using blockchain technology. As each DFT is unique and cannot be duplicated, buyers can prove ownership. To date, the technology has been applied to a number of different items including artwork, audio tracks, videos, and games.
Wang said that because most people don't get the chance to admire the artifacts up close, a digital copy transcends the limits of time and space, allowing history buffs to avoid crowds and inspect objects whenever they want.
"Also, it's easier to view an artifact on your phone than through a storefront," he said. "It is becoming a trend for museums to develop digital replicas, which are an important contribution to creative and cultural products, and also help promote traditional culture in ways that young people appreciate. "
Han Shijun, a resident of Wuhan, was more than ready to purchase her own digital copy of the famous sword.
"In the past, I only saw artifacts in cupboards, and most of the time, not very clearly. Technology can also restore artifacts, which brings me closer to the story," she said.
Wang Yitao was not so lucky. "It sold out before I knew it," he said.
But the sale piqued his interest and he then bought four digital reproductions. "It's interesting, and the parts are not expensive," he said. Indeed, many are sold between 9.90 and 25.90 yuan.
Li Jialu, another Wuhan resident, said that although the object was virtual, "owning Gou Jian's sword looked cool."
In recent years, many Chinese museums have produced digital reproductions. In September, the Shaanxi History Museum released three images based on the front, back, and 3D images of its most significant artifact, the Tiger Tally, which was used during the Warring States Period (475-221 BC). .-C.) To mobilize the armies.
In November, the Chengdu Museum uploaded digital versions of its famous stone rhinos to Alipay, and in the same month, 10,000 digital versions of the Small Wild Goose Pagoda and Bell Tower, two important heritage buildings in Xi'an, in Shaanxi province, were also sold.
Zhu Jianxiong, who heads the digital collections division at AntChain, part of the Ant Group, a subsidiary of Alibaba, said that since October, around ten museums, including the provincial museums of Hunan, Hubei, Henan, from Hebei and Anhui, produced digital replicas. , and more than a million Internet users have made purchases. The platform posted 237 different articles.
This new art form aims to introduce the ingenuity and skills of the ancient artisans who made these precious relics to a younger audience, as well as to encourage a greater appreciation of Chinese culture in daily life, said Zhu, adding that the company hopes to boost digital appreciation. cultural relics for both their cultural and technological value.
To avoid speculation, the platform prohibits exchanges between Internet users but allows buyers to donate items purchased after 180 days. China is committed to promoting the protection and exhibition of cultural artifacts through technology during the 14th Five-Year Plan period (2021-25), said Wu Yuanbin, director general of science and technology. for social development at the Ministry of Science and Technology. beginning of November.
Xia Zengming, a professor at the Huazhong University of Science and Technology in Wuhan, said digital replicas help make connections between buyers and the characters and stories related to the artifacts, making it easier to raise awareness of the story.
Plus, collectors don't have to go anywhere to complete their collections or worry about buying a fake. "It gives them pleasure and promotes development in culture and tourism sectors at the same time," Xia said.