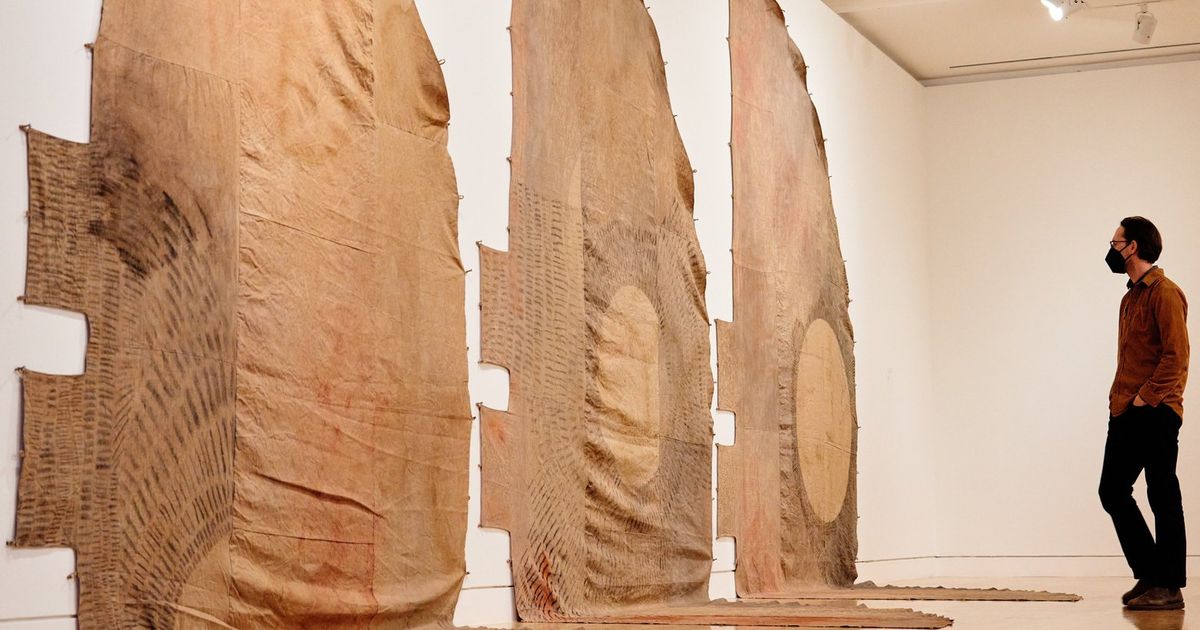 Explore the fascinating new exhibition of the Frye Art Museum through these 5 works
A&E pick of the week
Editor's Note: With the continued high number of COVID-19 cases, COVID protocols and other details regarding events are subject to change. Please check your event's website for COVID requirements and the latest information, and consider safety recommendations from local health authorities as they are updated.
Some artists let you know exactly what they are doing. Locally, I think of Anthony White and his loud, goofy, plastic paintings of balls, preening bodies, sunglasses, jewelry, drugs, junk food wrappers and phones, phones, phones – that's it. is a frantic (but not superficial) investigation of image, consumption, distraction.
Other artists are more mysterious. I can only delve into the haze of what, if any, is encoded in the shapes and nuances of surveyors like Victoria Haven – but that doesn't mean I don't like them.
Ontario artist Duane Linklater (Omaskêko Cree) oscillates somewhere between the obvious and the obscure. There are stories and ideas in "mymothersside", which currently occupies several rooms of the Frye Art Museum, but we only pick up fragments and echoes, as if we hear something – or if we are allowed to hear little ones. pieces of something that is not fully ours. understand.
There is sorrow here, and loss: stained tipi blankets hung on the walls and draped across the floor; white, weathered tipi poles, some grouped and stacked like bones in an ossuary; animal skins, some hanging from the eye holes. But there is also toughness and challenge: a rose-dyed logo of the American Indian Movement (AIM); graffiti from AIM's occupation of Alcatraz Island: "Custer had brought him"; video footage of Linklater, artist Brian Jungen (Dane-zaa) and Jungen's uncle hunting and butchering a moose; living houseplants that once belonged to Linklater's mother; blueberries he planted in the Frye yard.
Linklater's work seems to ask questions about what has been erased and ruined – and what remains. In fact, let's tackle "mymothersside" in five objects, the first of which literally asks this question.
1. "What's left? ": The words are written in red on metal steel poles against a partially demolished wall on the Frye's east side – stripped of its drywall, with the electrical system exposed. The quote comes from a rhetorical question asked by Supreme Court Justice Sonia Sotomayor during Dollar General Corp. vs. Mississippi Band of Choctaw Indians, a 2016 case that has become an argument over Indigenous sovereignty. When 'mymothersside' closes, Linklater and Frye will leave the artwork behind, covering it with drywall and hiding it inside the museum.
This gesture echoes questions about how non-Indigenous institutions were built and engulfed on Indigenous lands and artwork, including natural history museums with extensive collections of Indigenous artwork. in their vaults. It's also a counterpoint to the play "A Blueberry Garden for Seattle" – bushes that Linklater planted in Frye's yard as something alive and highly visible, which will remain when he goes.
2. "Installation of the UMFA": Speaking of Indigenous artwork in museums: In 2015, the Utah Museum of Fine Arts (UMFA) invited Linklater to create something new for an exhibit. He searched the museum's collections database, looking for relatively recent (1875-1978) Indigenous pieces without individual artist credit – the familiar "artist unknown". Linklater found them and made raw copies of them: he 3D printed masks, jars, and other sculptural objects (3D printing was much coarser back then) and photographed textiles, then made printed images at original scale. The result is a room full of hauntingly faded ghost objects, their stories and individual vibrancy eroded. A Navajo serape seems to need reading glasses. The 3D printed sculptures (a Kwakiutl crow mask, a Hopi kachina, more) are whitewashed, worn and pixelated, like driftwood that has been tumbled and scoured in a digital ocean.
3. "dislodgervanishskinground": This tipi, mounted sideways against the wall, began as a clever adaptation. In 2019, Linklater had wanted to install an 18-foot-tall teepee at Artists Space in New York City – but the ceiling was too low, so he knocked it onto its side and hung it from the ceiling. But, of course, the dislocated and disoriented tipi (with the title of the work) is a disturbing emblem of physical and cultural displacement.
4. "Foiled (verse 1)": Every element of the "mymothersside" movie is powerful in an understated way, especially the calm and almost smooth moose hunting and skinning sequences with elder Dane-zaa in BC. But the slow, frame-by-frame, "foiled (vers. 1)" boxing video has a more poignant character. Two men – one in red and one in blue – clash with punches in slow motion. Is this an allegory of history itself? Who wins? Who wins?
It's hard to tell in the video, but the backstory is amazing. In 2012, a young politician at the time named Justin Trudeau (the fighter in red) arranged to box and beat young Indigenous Senator Patrick Brazeau (Kitigan Zibi Anishinabeg and the fighter in blue) as part of a fundraiser. funds and a publicity stunt. In a 2017 Rolling Stone profile, Trudeau said, "I wanted someone who would be a good foil, and we ran into the tough guy senator from an Indigenous community. It did the job… I saw it as the right kind of story, the right story to tell. Understandably, the disclosure that Trudeau (who is white) used an Indigenous colleague as a literal political prop and thought beating him would be "the right story to tell" was quickly and heavily criticized.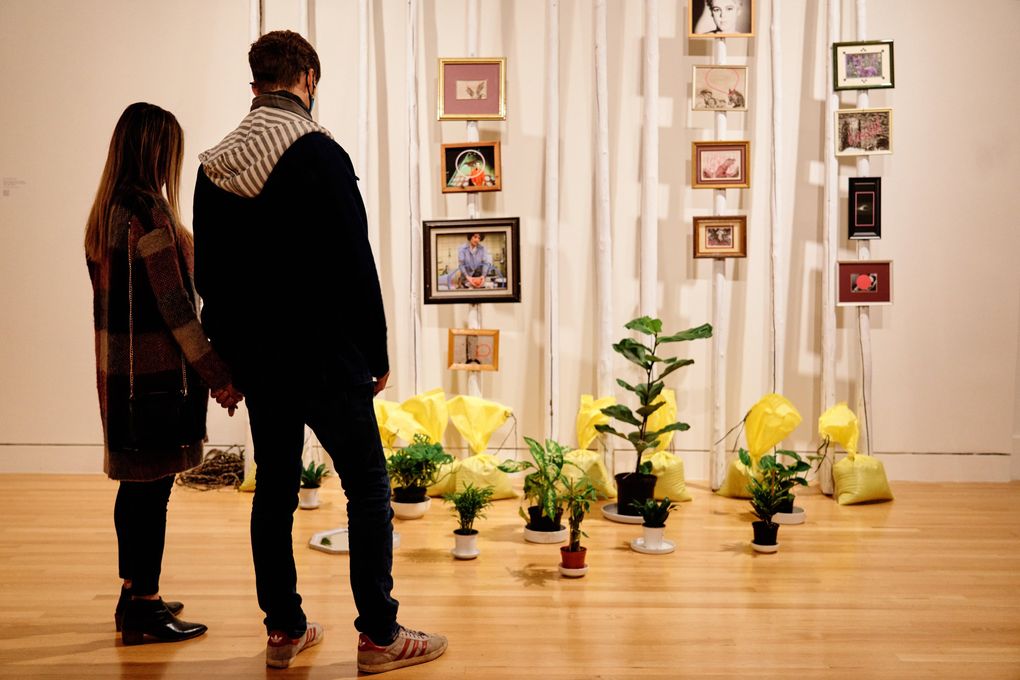 5. "Remote action": This collection of objects resembles the most intimate moment of 'mymothersside': 12 tipi poles leaning against the wall, nine living houseplants belonging to his late mother Pauline Linklater, eight yellow plastic bags containing something (from the earth?), an octagonal mirror on the floor and 12 pictures in frames – details of Goya's 'Catastrophes of war' prints, a still image from Andy Warhol's 'Screen Test: Edie Sedgwick', a still image from the avant-garde author Chantal Akerman, a photo of a living deer with an arrow stuck through its head, another photo by revered contemporary Ojibway artist Norval Morrisseau. What does it all add up to? An impression of Duane Linklater – but, as in the rest of 'mymothersside', we know that this is only a fragment of the whole.