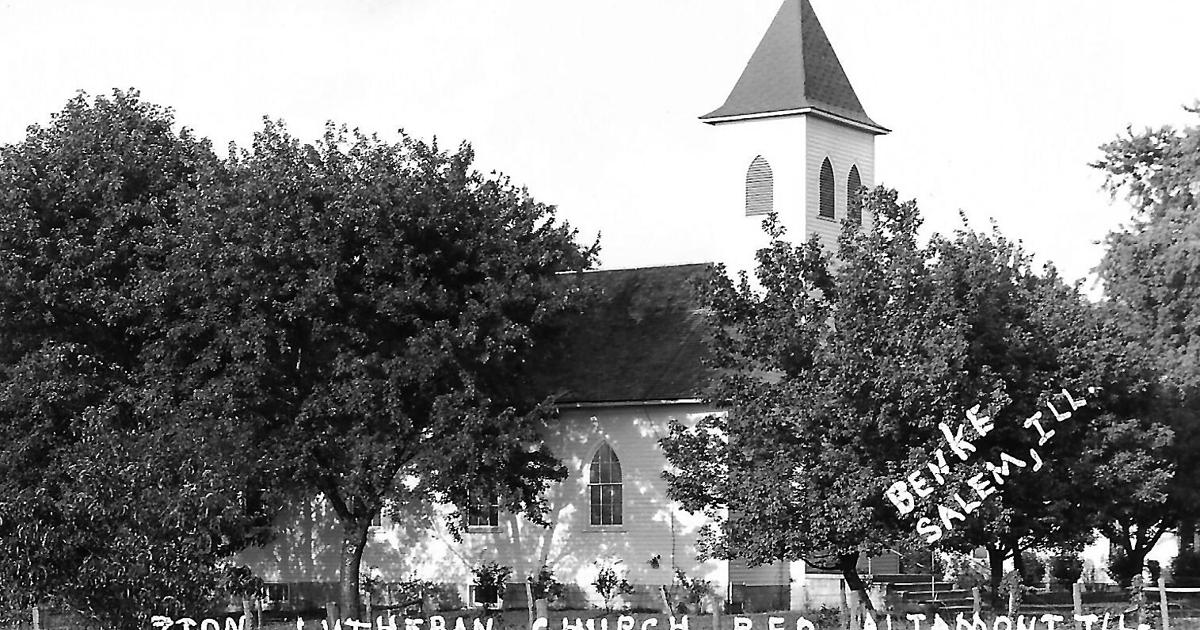 Fred Benke: ICP graduate and local postcard publisher | Story
In 1983, I decided to enroll in the historical administration program at Eastern Illinois University in Charleston.
This program has trained museum professionals and managers of historic sites. I was refused because I couldn't attend classes during the day since I was still teaching. I looked at other schools as far away as New York but couldn't afford to go that far to study.
I applied again to the EIU the following year and was interviewed by Dr. Duane Elbert and Dr. Robert Hennings. The interview went well and I was accepted for evening classes twice a week for three years. My courses included the history of American architecture, historic preservation in the United States, archival methods, historical museum exhibits, material life in America from 1600 to the present, administration of organizations History, 19th Century American Social and Cultural History, Introduction to Archival Photography, and Internship in Historical Administration. Instead of the internship, I wrote a local history book about important structures in Effingham County. Copies of it are in the EIU, Teutopolis School Libraries, and Effingham Public Library.
Unfortunately, the landmark administration program no longer exists after Illinois' 2015-2017 budget stalemate. The university decided to abandon the program. Instructors moved on to other institutions of higher learning or to major museums like the Henry Ford Museum in Dearborn, Michigan. Dr. Terry Barnhart was the head of the program and died suddenly of a heart attack. The program graduated 398 museum professionals during the years 1978-2017. They are scattered in the United States, Canada and Europe.
I graduated from EIU in 1986 and became involved with the Effingham Regional Historical Society. I became its president in 1986 and served in that office until 1990 when it merged with the Effingham County Genealogical Society. I wrote a book called "Survey of Structures in Effingham County Over Fifty Years Old", which the Historical Society paid for to print 100 copies. There were over 200 properties in the book, many of which have now disappeared.
After studying the history of Effingham and Edgar counties from 1984 to 1998, I discovered the wonderful world of picture postcards that helped bring local history to life with photos. I attended my first postcard show in 1998 in Collinsville, Illinois. I was amazed at the volume and variety of postcards available. There were dealers at the show from all over the country with maps from everywhere, including Effingham and Edgar counties, as well as National Road towns in Illinois. I grew up in Paris, so there were postcards of places I remember from my youth, which I also collect.
My collection of postcards has spanned the 25 communities along the State Highway from Marshall to East St. Louis. I am currently president of the National Road Association of Illinois. I now have thousands of picture postcards from many Illinois postcard publishers. I also have hundreds of city view postcards from Illinois communities for sale at my antique store Red Coach Antiques. I will be using the postcards for more articles on some postcard publishers featuring Effingham County. A friend of mine from Missouri recently attended the show in Collinsville. He was overwhelmed by the volume and variety of postcards. He has been collecting postcards from the St. Louis area since living in St. Anne, Missouri.
As I started to accumulate more cards, it occurred to me that I could use them to tell stories about people, places and events for the Effingham Daily News Museum page. My interest widened to the photographers who took the pictures. One of these photographers was Fred Benke from Salem, Illinois
While a student at the Illinois College of Photography in Effingham, Benke learned several aspects of modern photography to use in his future photography ventures. After graduating in 1921, he opened his own Benke studio in Salem. He later opened a studio in Kinmundy in 1926. All Kodak film development was sent to the Salem studio. He announced that the Salem Studio would receive work from Kodak in the mail and receive prompt attention. Fred also supplied Kodak film supplies to other photographic supply outlets such as Nirider Drug Store and Bargh Drug Store in Kinmundy, JA Wearver in LaClede and AM Wilson in Alma. Fred also had an office in an old creamery in Pana.
Benke was "Salem's well-known photographer". He was interested in the libraries and churches of Carnegie, which he photographed in southern Illinois. He then turned them into photographic postcards to sell to the public. Fred took many photos for postcards in Salem. includes churches, homes, public buildings and facilities, businesses and events.
A particularly successful postcard by Benke features a gas station named Wallace's Garage Salem in 1932. At that time, they were called "gas stations." It was a Texaco station that also repaired cars and sold Texaco oil and gasoline. an official affiliate of the American Automobile Association. In the postcard, a lady uses a water hose to fill her radiator. There is also a Ford Model A car that has been converted into a tow vehicle. Fuel pumps are the "visible fuel tanks". which made it possible to see the quantity of gasoline pumped. Because of their shape, they are called "Mae West" style pumps and are very expensive when restored. They had milk glass globes on top of the pumps with the Texaco Star There's another sign that says "modern bedrooms". This was another service offered by Wallace's Garage. Fred tagged the photo "Photo by Benke Salem ILL".
Fred specializes in true photo postcards of central and southern Illinois cities. He liked to take photos of buildings like libraries, monuments, churches, businesses, etc. and signed them "Benke-Salem". Fred liked Altamont because most of my examples in Effingham County are Altamont buildings. These sights include Zion Lutheran Church, St. Paul's Lutheran Church, Catholic Church, Presbyterian Church, Blue Point Lutheran Church, Bethlehem Lutheran Church, Altamont Hotel, Mrs. Endora Rhodes House, Torbeck House, Methodist Church, German Methodist Episcopal Church and home of Dr. Charles Wright. also liked other national road towns like Vandalia to take pictures of churches and public buildings.
Another photographer from Mattoon, by the name of CL Bence, specialized at the same time in real photo postcards in Effingham County. There were other photographers like CU Williams in Bloomington and LL Cook in Milwaukee, Wisconsin who also published real photo postcards of Effingham's sites. Maybe Fred Benke didn't want to compete so much for views in Effingham County.
Benke was born in Milwaukee, Wisconsin on October 2, 1902 to Ludwig and Julia Benke. Ludwig was born in 1874 in Germany and died in 1927 in Taylorville. Fred's mother, Julianna A. Foss Benke, was born in 1872 in Germany. She died in 1962 in Taylorville and is buried with her husband in Oak Hill Cemetery in Taylorville. Ludwig became a doctor in the region. Fred had a brother named Ludwig (Louie), born in 1895 in New York. Ludwig died in Taylorville in 1984 at the age of 88. He is buried in Oak Hill Cemetery, with his wife Katherine Benke, who died in 1949.
Thanks to Find-A-Grave and Newspapers.com, I learned that Fred A. Benke died on May 13, 1983 at his home. He is buried in East Lawn Cemetery in Salem. Fred has a bronze plaque on his headstone indicating his military service as a technical sergeant in the United States Army during World War II. He was a Master Mason, a member of the White Shrine, American Legion, Moose, VFW, Shrine Club, past president of the Salem Building and Loan, and past president of the Illinois Photographers Association. He also attended the annual Master Photo Finishers of America convention at the US Grant Hotel in Mattoon.
After Benke's death, he had instructed his lawyer in his will to destroy all of his postcard negatives and the remaining postcards in his possession so that they could not be reproduced by other postcard publishers. This command was executed according to his wishes.
If you have any questions, comments or stories to tell, contact Phil Lewis at 217-342-6280 or email him at [email protected]