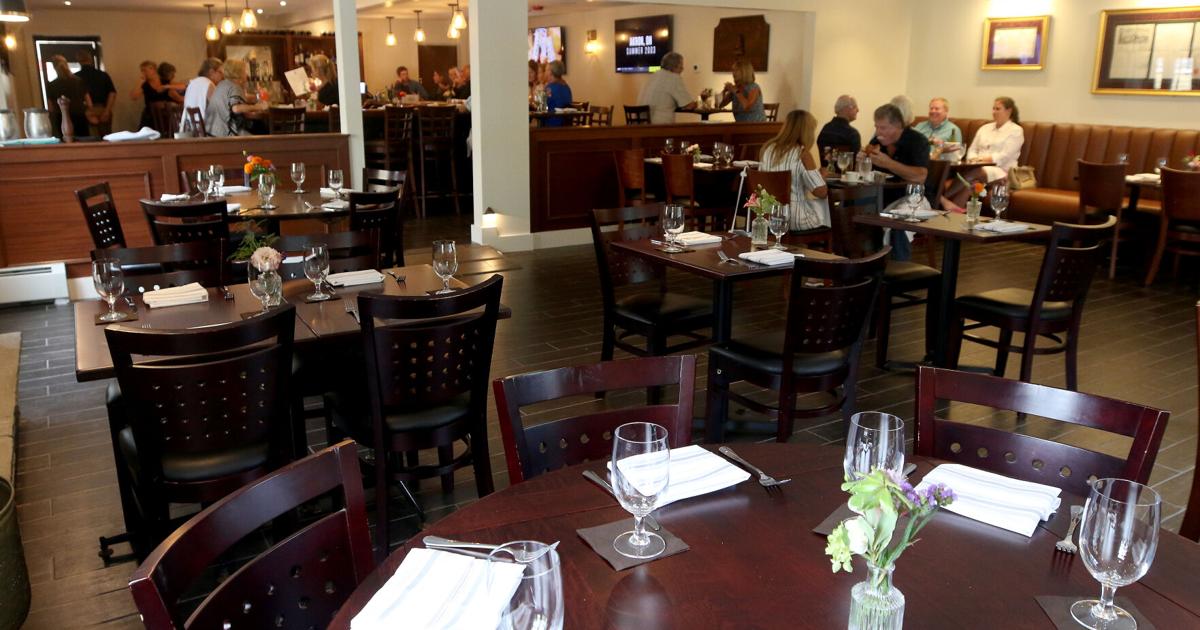 Historic General Stanton Inn reopens with an eye to the future | Daily news alerts
CHARLESTOWN — David and Jackie Moore traveled back in time again last week.
The Moores – Connecticut residents who have spent decades with their family, along with their three children, in the Green Hill neighborhood for decades – bought the historic General Stanton Inn last winter and have been steeped in its history – and its restoration – ever since.
The inn – once a Revolutionary War gathering place that would have hosted George Washington, General Lafayette and Alexander Hamilton – officially opened last Wednesday after a multi-million dollar renovation.
"I believe we're the seventh family to own the inn in 280 years," said David, an entrepreneur who has worked in sales and marketing for a number of Fortune 500 companies. was perhaps a stop on the Underground Railroad."
One of the oldest in the country, the hostel – which was discontinued for 10 years, they said – served as a regular coach stop between Providence and New London. It is named after Joseph Stanton Jr., who rose to the rank of general in the U.S. militia and became one of Rhode Island's first senators to the U.S. Congress.
"It's the oldest part of the building," Jackie said as she walked through a section of the inn, which dates back to 1667 and where local children once attended classes in a one-room schoolhouse.
It was days before they officially opened and the Moores, who spend part of their year in Simsbury, Connecticut, were walking around the inn – pointing out the renovated sections – talking about their plans for the historic building and recounting stories. stories about its history along the way.
Earlier this year, a company called Moonlight Paranormal Productions visited the inn to film and hunt ghosts, and in 2007 the inn was featured on the SciFi Channel show "Ghost Hunters."
Instead of poltergeists, the Moores discovered a family of kittens living at the hostel earlier this year.
"I'm happy to say they've all been adopted," Jackie said as she walked up a narrow staircase to the second floor where the bridal suite will one day be.
"I think people were smaller back then," she laughed.
The Inn's history begins in 1650 in Colonial America, according to the Inn's website, when the Niantic Tribe rewarded Thomas Stanton with property in Charlestown for brokering a deal to return a beloved Native American princess who had been abducted by members of the Manese tribe who had staged a daring night raid, kidnapped the young princess and brought her to their village on Block Island.
"Thomas Stanton rowed 12 miles over the ocean swell to the island and negotiated his freedom," according to the Inn's story. It was then that he received the 4 by 2 mile land where the General Stanton Inn stands today at 4115 Old Post Road.
"We'll call it the rum room," Jackie said as she walked through the first floor of the inn, pointing out the original beehive ovens and original beams. "Rhode Island has such an interesting history with rum after all."
In the 1920s, she says, a beautiful dining room was added as a Prohibition-era speakeasy and a gambling house developed. Al Capone, Diamond Jim Brady and Tallulah Bankhead were all among the more famous guests "who partied Gatsby style into the wee hours."
"There was a roulette table that came down from the ceiling," she said, explaining that the table could be raised in case law enforcement officials decided to visit.
As they renovated the formal dining room, Jackie said she was "drawn to the original coffered ceilings and period art deco chandeliers".
"We've kept that 1920s feel and upgraded the room with candlelight and a new sound system that will feature soft jazz like Ella Fitzgerald and Louis Armstrong," she said. "We want our guests to have a memorable evening enjoying a white table, fine cuisine and good wine."
"We are delighted to have hired Tom Hagist as executive chef," said David, noting that Hagist is a Westerly native who has worked at a number of high-end restaurants, such as White Horse Tavern and Olympia Tea. Room.
"The community is thrilled with the food," said David, a Narragansett native and University of Rhode Island graduate, noting the "state of the art kitchen and renovated, very comfortable tavern bar."
"We have over a thousand Facebook followers," he added. "We will focus on fresh seafood, a farm-to-table menu and fine wines."
Wednesday's official opening night was "fabulous," David said. "We have been very busy."
According to Facebook comments and various Charlestown and Westerly Facebook pages, diners were pleased with both the restaurant and the renovation.
"We enjoyed our dining experience last week," one poster wrote. "The food was delicious, the service top notch and the setting beautiful. I encourage everyone to give it a try. You won't regret it."
"We had dinner there on Sunday and it was fantastic," wrote another. "The refurbishment of the pub/restaurant is very well done. Same with the yellow exterior."
The inn, believed to be the second-longest consecutive inn in the country, sits on a 6.78-acre former horse farm surrounded by its original stone walls, said David, a history buff who collects papers presidential.
"Presidents Theodore Roosevelt and Chester Arthur were also guests at the inn," David said, pointing to the framed and signed papers of the presidents hanging on the wall of the tavern.
In 1973, Janice Falcone and her late husband, Angelo "Sonney" Falcone, purchased the inn and ran it for 34 years before selling it in 2003 and then buying it back in 2012.
For decades, the Falcones have hosted a weekend flea market on the property, a tradition the Moores plan to continue — but with a bit of a makeover.
"It will be a bit more upscale," David said, "with antiques and crafts, a local potter and food trucks."
"It will be cool," he added. "And we're thinking of an Octoberfest with a vintage car show and music."
"I remember going to the flea market as a kid," David said, remembering the baseball cards and pocket knives he used to buy.
The Moores said that while they wanted to keep the tradition alive, they also wanted to add new energy and flair and make it more of a "kind of family destination".
Moore said that although they have completed the first stage, they envision the project as a three to five year plan. Rooms, including the Salt Water Taffy Rooms — suites with a different-colored door pulls at each entrance — are slated to open in the fall.
"Our plan is to be the premier wedding and banquet destination in Southern Rhode Island," David said, noting that they need to take the next two steps to "get it where we want to be…which is a boutique style hotel with colonial elegance."
The Moores' daughter, Sarah, will oversee the events and Kellie Patt will be the restaurant manager.
"It really is a woman-owned business," David said with a smile and a look at his wife. "She's the boss and the face of the business."
The tavern is open Wednesday to Sunday from 5 p.m. to 10 p.m. The "fine dining room" will open in September and Sunday brunch will be served from 10am to 2pm, followed by a traditional "New England Sunday Supper", which will be served until 7pm The market is open on Sunday from 10am to 3 p.m.
For more information, visit www.thegeneralstantonInn.com or call 401-364-8888.