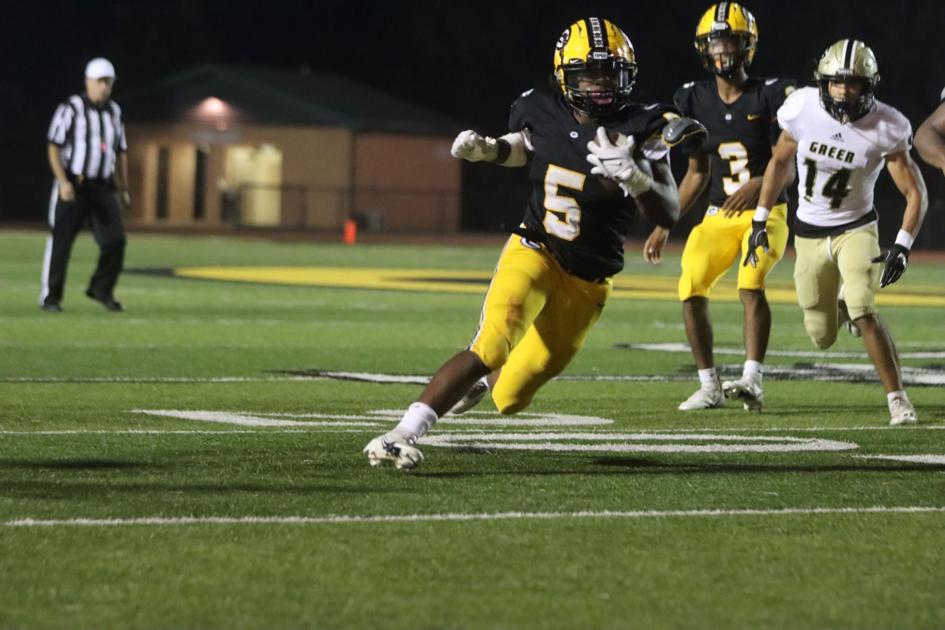 Morton named IJ player of the week after historic night | High school
Greenwood full-backs and strength coach Chris Seaborn knew it would be a special night; but like everyone in attendance at JW Babb stadium on Friday, he had no idea how special it was going to be.
Then he heard an announcement over the intercom.
Greenwood junior full-back Ve Morton broke the ground running record in one game, totaling 335 yards in the Eagles' 35-28 win over Greer. His efforts earned him IJ Player of the Week honors for the second week in a row.
"He had a few points in the first half and I kind of knew that when everything he was running was for positive gains and nothing was falling apart in the backfield," Seaborn said. "It was really fun to watch."
Morton also recorded a high of 39 carries in his first career 300-yard rushing performance. Despite the accolades, Morton will be the first to say that he was not the only one to achieve this accomplishment.
"It feels good to know that I broke the record," said Morton. "I have to give my offensive lineman a lot of credit. They come weekly and work hard. The whole offense did (well).
Seaborn said that on one of Morton's two long runs of 50 yards or longer, it was because of the guard and tackle on the weak side that gave Morton the room he needed to break free.
The long runs gave Greenwood the boost he needed against Greer. The Eagles, pioneers in Morton's performance, dominated possession time holding the ball for over 30 minutes. This is also due in part to Morton, who refused to be denied in the second half.
"I don't like to lose," Morton said. "I compete in everything I do."
Seaborn said he saw this competitiveness firsthand. He and Morton had a billiard rivalry that began after Morton's tutoring sessions at Seaborn. Seaborn said that whatever the activity, Morton thinks he's the best whether he's played it before or not.
The sessions, normally reserved for seniors preparing for the SAT, have been open to juniors this season.
"I beat him more times than he beat me, but he had one night where he beat me two or three times in a row," Seaborn said. "He's going to approach that, whether he's good, bad, or indifferent, saying, 'I'm the best at it. ""
Contact sports writer James Benedetto at 864-223-1814 or follow on Twitter @james_benedetto.