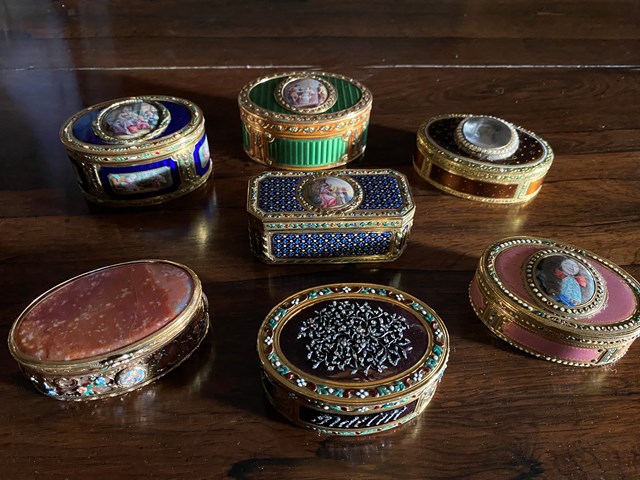 Mystery of the Fulford Thefts sees precious snuffboxes coming home
An exquisite collection of antique gold snuffboxes have returned home more than 40 years after being stolen from a Leeds mansion by a mysterious thief.
The beautifully decorated seven, late 18e Century containers returned to Temple Newsam House this week, the latest twist in a decades-long thriller that staff at the historic house have dubbed The Fulford Thefts.
The boxes had joined the house's collection at the start of World War II, when they were part of a generous donation from renowned local art collector, entrepreneur and laxative tycoon Frank Fulford.
Dating back to 1770 already, the boxes are a mix of French, Swiss and German craftsmanship, each featuring intricate golden metallic pieces and delicate, decorative enamel designs.
Originally displayed in the magnificent Chinese drawing room of Temple Newsam, the treasures were stolen in 1981, disappearing without a trace and with an unidentified culprit.
They were thought to have been lost forever until the start of the year, when a determined team of experts from the Art Loss Register, who track down stolen works of art and antiques and work to return them to their rightful owners, discovered them at auction.
After completing a formal membership process, representatives of the Art Loss Register and insurers of the objects traveled to Temple Newsam yesterday (November 9) to hand over the boxes, which will once again become a valuable part of the collection of museums and Leeds galleries.
Adam Toole, Guardian of Temple Newsam House, said: "We are absolutely delighted to see the boxes returning to our home at Temple Newsam and are extremely grateful to the Art Loss Register for all their hard work and diligence in returning them to us. which was kindly provided free of charge.
"The disappearance of these beautiful boxes has been a great loss for Temple Newsam and for the city, so we are delighted that these treasures are back in our collection.
"It is extremely rare to find objects that combine classical art with modern intrigue in such a captivating way and we look forward to sharing this remarkable story with our visitors."
Centuries ago, the original owners of the tins would have used them to hold snuff, a type of powdered tobacco that was snorted.
Snuff became an extremely popular trend in France and Britain in the late 18th century, with ornate and expensive snuffboxes made from proprietary materials including gold, silver and diamonds. , produced as status symbols for the super rich.
The elaborate props became part of a very specific snuff-taking ritual in France, which consisted of 14 distinct steps.
James Ratcliffe, Director of Recoveries and General Counsel for the Art Loss Register, said: "It's fantastic to see these seven gold boxes returned to Temple Newsam, over 40 years after they were stolen.
"We are delighted that it has been possible for the Art Loss Register to identify them in our work and thus ensure their recovery, which has been facilitated thanks to the generosity of both the insurers and the unfortunate one who is found innocently in possession of the boxes.
"It is always satisfying to see how effectively the due diligence carried out by art market participants through the art loss register can result in returns like this, which are so important to victims of theft of art. 'origin. "
Rod Luck, technical director of claims at Municipal Mutual Insurance Ltd, said: "It is good news when stolen goods are recovered, especially where the goods are of historical interest. MMI's approach is, to the extent possible, to facilitate the return of property to the original owner. MMI is pleased that this is the situation with regard to the recovered snuffboxes. "
Alistair McCloud, Head of Claims Relations with Zurich Municipal Insurance, added: "He is pleased that after working in partnership with MMI regarding this loss, it has been decided to return the snuffboxes to the original owners. We are delighted that such important artifacts are now back in their place. Excellent news for all concerned and that these historical objects will be able to be enjoyed again by museum visitors for many years to come.
The recovered boxes will now be carefully preserved by experts at Temple Newsam before being on display again next year.
Councilor Jonathan Pryor, deputy head of Leeds City Council and executive member for economy, culture and education, said: heritage.
"It's amazing to see these beautiful objects return to their rightful home in Leeds, where they will become the newest addition to the world-class collection of Leeds Museums and Galleries."
ENDS