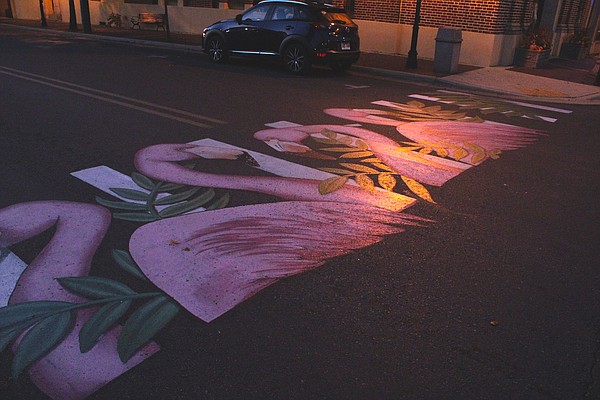 New crosswalk art painted today
A section of Jefferson Avenue is expected to be closed today as Main Street El Dorado expands its crosswalk art project.
Beth Brumley, executive director of MSE, said artists are set to begin work today at the intersection of Jefferson Avenue and East Main with a new music-themed piece in the crosswalk between the courthouse Union County and the Laredo Grill.
The new art will join two other crosswalk designs that were painted last year in Jefferson and Elm and Washington and Elm.
Brumley said Genwealth Financial Advisors is sponsoring the latest piece, which will have a musical motif to complement an existing public art project — fiberglass replicas of Les Paul guitars that are displayed around the courthouse square — and give a nod to MusicFest, which returns fully to the town center square in October.
For the past five years, MusicFest's business has been split between MSE and the Murphy Arts District as part of a partnership to present the festival, which was started by MSE in the late 1980s.
MAD handled headliner bookings and concerts at its venues on Locust Street and MSE managed the festival attractions, food and craft vendors and side stages featuring local and regional talent two blocks north of the MAD entertainment complex.
In early 2022, MAD asked to dissolve the partnership to focus more on booking concerts and other live shows, rather than festivals.
Like the guitars, which were installed in 2007, the crosswalk art is designed and painted by local artists.
Brumley said MSE is also working to close out the current round of state grants and anticipate the next round of grants to be awarded by the Arkansas Department of Heritage and Tourism and channeled through the Arkansas Historic Preservation Program, a branch of ADPHT. .
Last May, MSE received a $25,000 Downtown Revitalization Grant (DTRG) from the state grant program.
A portion of the annual DTRG is used for MSE Mini-Grants, which are available to downtown businesses for interior and exterior improvement projects.
Brumley said nearly 10 companies applied for mini-grants last year and four returned the documents needed to be reimbursed for projects completed on time.
Laredo Grill replaced awnings damaged in February 2021 snowstorms; All About Flowers has completed interior work to expand and open up the floor space and some exterior upgrades; and Southern Threads installed a new awning.
Greg Harrison – Ameriprise Financial Services, LLC, received the maximum mini-grant of $5,000 which was applied to a major improvement project that includes restoring the building's existing masonry; replacement of broken window lintels and second floor windows; installation of new window awnings on the second floor; replace and repair moldings around windows and doors; and repaint the existing trim.
The work will also cover the adjacent building that Harrison owns in the 100 block of East Elm.
Brumley said MSE will reimburse $9,150 to downtown businesses that received mini-grants and MSE board members plan to use the rest of the grant funds, including more public projects. downtown or for its operating budget for office improvements.
A portion of the DTRG was also used to help install a system that plays music to the public in downtown El Dorado.
The system was installed last year and was largely covered by the El Dorado Works Tax, a one-cent municipal sales tax that is used for economic development, municipal infrastructure and quality of life projects.
Brumley said the next round of state grants will begin in July.
"We're going to be getting new funds to spend and we're thinking about new kiosks and benches for downtown," Brumley said.
She noted that the group is looking at different types of kiosks, saying the existing kiosks downtown are not "aesthetically pleasing and not very useful."
"If you hang something on it, it has to be waterproof. If it rains on it, you can't read it or it creates litter," Brumley said.
MSE is also considering its next public art project, and Brumley said the group plans to apply for a state-issued public art grant in the fall.
A long-standing idea has been exterior murals for the downtown core, much of which is encompassed within the historic commercial district of El Dorado.
The neighborhood falls under design review guidelines and is governed by a city ordinance.
"The murals weren't the easiest for us. We looked at a few potential locations and considered putting up a false wall, but that's expensive, so we're looking at standalone art projects," says Bruley.