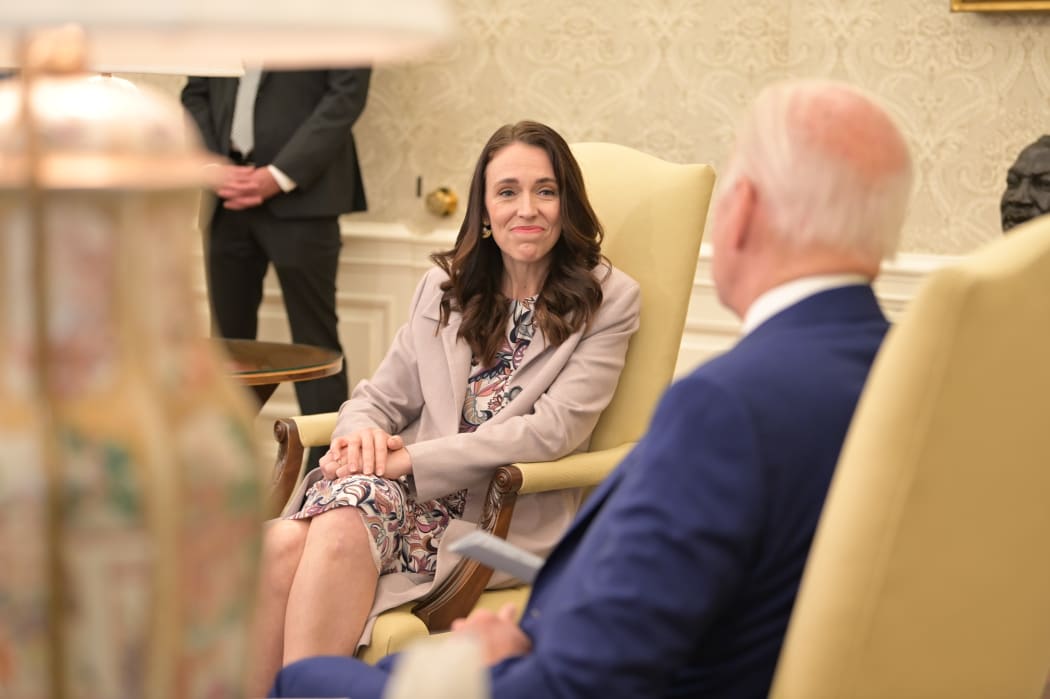 New Zealand lines up alongside old 'friend' after historic visit to White House
Power play – The Prime Minister's historic visit to the White House has been long overdue, but comes at a time when New Zealand must draw clear battle lines between friend and foe.
It has been difficult to juggle relations with the United States and China – a more recent relationship, but crucial for the New Zealand economy.
"To the people of New Zealand: If you ever need a friend, you have one."
This promise, citing the inscription on the Marine Corps memorial plaque in Wellington, concluded the joint statement released by New Zealand and the United States after Prime Minister Jacinda Ardern and President Joe Biden met.
The joint missive represents a shift in the balance of New Zealand's foreign policy, towards Western alliances and traditional partnerships.
Citing a "unique partnership" and "an 80-year history of shared resolve in the face of aggression" dating back to World War II, they declare their "concern at the growing strategic competition in the Pacific region, which threatens to undermine existing institutions and arrangements that underpin security in the region".
Then, straight into a list of hotspots specifically related to China: the South China Sea, Hong Kong, Taiwan, and "human rights abuses" in Xianjiang.
The threat of increased Chinese influence in the Indo-Pacific, alongside North Korean and Russian aggression, "requires new resolve and closer cooperation" between New Zealand and the United States, say- they.
China answer was fierce, saying the statement "distorts and smears China's normal cooperation with Pacific island countries, deliberately exaggerates the South China Sea issue, makes irresponsible remarks and grossly interferes in China's internal affairs. China".
China's foreign affairs spokesman, Zhao Lijian, said the deal with the Solomon Islands "did not target any third parties, nor did it intend to establish a military base."
"The hype on the relevant issues in the joint statement by the United States and New Zealand is driven by ulterior motives aimed at creating disinformation, attacking and discrediting China," he said. declared.
He urged the United States to "shed its Cold War mentality and ideological biases, stop interfering in China's internal affairs, and stop slandering and discrediting China" – another salvo in the ongoing war of words.
And for New Zealand, a hope that it "will adhere to its independent foreign policy and do more to enhance security and mutual trust between countries in the region and safeguard regional peace and stability".
America is building a coalition; worried about the desire of a host of small countries to open the door to China. It was boosted by China's intensive efforts to sign agreements with Pacific countries covering trade, disaster relief, pandemic response and security.
While New Zealand is a small country in the scheme of things, it occupies a unique position in the battle of the superpowers. It has established relations with China and is a key player in the grouping of Pacific countries. With long and deep ties to his closest neighbours, he could prove to be a useful broker, one of the reasons – despite major logistical challenges – this week's White House meeting took place.
The United States, Australia and even New Zealand must tread carefully, lest their efforts to dissuade Pacific countries from moving closer to China will be seen as authoritarian and patronizing. Biden addressed it directly while sitting in the Oval Office with Ardern: "We don't come to dictate or lay down the law."
She, too, has been at pains to recognize that Pacific countries can decide when and with whom they strike deals, but with pointed reminders about regional security arrangements that have been in place for decades.
Ardern did what she intended to do in the United States; leverage its international profile to relentlessly tout New Zealand as open for business, open doors to local business interests and foster key personal and political relationships – especially with the US President. While her personal ratings are down at home, her reception in the United States has been generally enthusiastic; it helped many of those she met to be of the same political stripe and welcomed the contrast it presented with other elements of American politics.
A Washington insider said she made a good impression on Capitol Hill and the White House, as well as valuable time with potential presidential candidates on the left of American politics: Vice President Kamala Harris and Governor of California Gavin Newsom.
Internal unrest has delayed the upcoming Pacific Islands Forum, where the stakes are higher than ever. New Zealand wants to visit Fiji and speak directly to Pacific leaders about what is happening in the region, particularly the China-Solomon security deal.
There was little engagement from the Solomons after New Zealand demanded details of the country's deal with China and how it might affect regional neighbours; it's hoping to make progress once leaders can sit down and debate in person.
President Biden is also due to address the Forum. No prizes for guessing what his pitch will be.