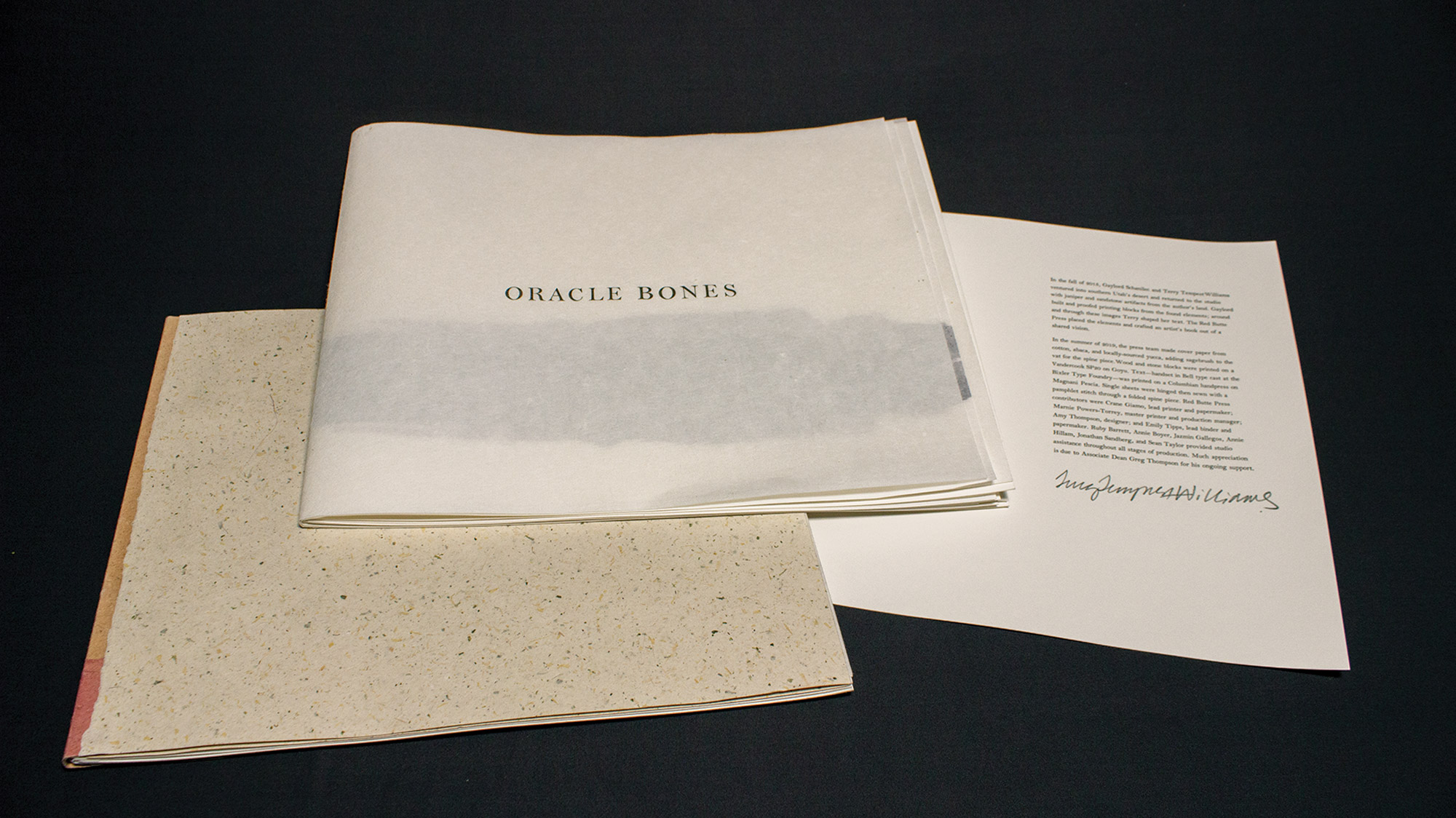 Oracle Bones: A Story and a Metaphor
The beautiful press publication Oracle Os, recently published by Marriott Library's Red Butte Press (RBP), was selected for the DesignArts2022 Utah exhibit at the Utah Museum of Contemporary Art. The Utah Division of Arts and Museums and the Museum of Contemporary Art of Utah partner each year to make this design exhibition possible. The exhibition will be on view until September 24.
Early in this project, author and activist Terry Tempest Williams and printer and wood engraver Gaylord Shanilec collected juniper and desert sandstone artifacts from southern Utah. Shanilec then shaped and planed these objects into printing plates, which staff at Red Butte Press (RBP) used to print the images for Oracle Os.
Tempest Williams' partnership text is an urgent meditation on the vulnerability and power of the earth. The pictures in Oracle Os function both as archival documents and as landscape metaphors. A sequence of opaque and transparent pages suggests the desert horizon and the transformation of land over time. The color palette evokes the purples of distance and dusk, and the reds of earth and rock. Both conceptually and visually, the text responds to shapes and forms. The book's landscape format and generous white space contribute to a feeling of open land and sky.
The RBP team made the cover paper from locally sourced cotton, abaca and yucca, adding sage on the back. For binding, single sheets were hinged then sewn with pamphlet stitch through a folded spine piece dyed with Utah-sourced ephedra and prickly pear. The images were printed in letterpress on a Vandercook SP20 on Goyu paper. The text – combined in Bell-type cast at The Bixler Press & Letterfoundry – was printed on a Colombian hand press on Magnani Pescia. The RBP contributors were Crane Giamo, chief printer and stationer; Marnie Powers-Torrey, master printer and production manager; Amy Thompson, designer; and Emily Tipps, lead binder and papermaker. Ruby Barrett, Annie Boyer, Jazmin Gallegos, Annie Hillam, Jonathan Sandberg and Sean Taylor provided studio assistance throughout all stages of production.