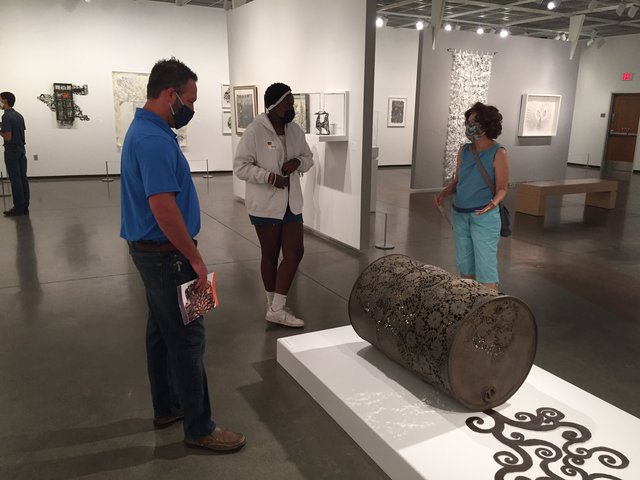 The program trains teens to become arts center animators
The Carnegie Arts Center is opening a new session for teens who wish to participate as docents and volunteers at the arts center. Originally funded by a grant from the Make Dreams Real Endowment Fund in 2020, the Teen Docent program continues to be a first step in learning more about art, history, museums and public engagement with young people. who are interested in the arts.
"Teen Docents will work with gallery visitors of all ages – including adults, children and family groups – helping them engage with and understand amazing works of art," said Lisa McDermott, Director of Carnegie. "Our exhibitions change every few months, so there is always something new to tell. Through guided tours, guided dialogues and informal conversations, our young docents can make everyone's experience at Carnegie Arts Center more exciting.
Teen docents will participate in 24 hours of training to learn art history and appreciation, public speaking and how to have fun in the art gallery. The training helps prepare teachers to think while standing in front of an audience and to encourage multiple interpretations of a work of art. At the end of the training, the teen docents will be in the gallery twice a month to practice, observe other docents and interact with visitors.
The Teen Docent program is open to students currently enrolled in Grades 8-12 in Stanislaus County. Teen docents should be mature, enjoy working with audiences, have an enthusiasm for creative learning, and be willing to work in a team. No prior knowledge of art or art history is required. Applications can be completed on the Carnegie website (www.carnegieartsturlock.org/teen-docent) and must be received by August 20.
Training begins August 31 and runs Tuesdays and Thursdays from 4:30 p.m. to 6:30 p.m. (snacks included) at the Carnegie Arts Center until October 7. McDermott acknowledges that some families might be concerned about in-person participation, but with the lifting of COVID-19 restrictions for those vaccinated, she believes training and visits can be done in a safe manner.
"Participation in the program is limited to only 10 students and the training will be done with continuous physical distance and the wearing of a mask for anyone not fully vaccinated. Ultimately, our young docents will talk to visitors, lead group conversations, and they need to develop their confidence in this role by practicing in the gallery with their peers, "she said.
Teen Docents will be able to use this experience for hours of community service and will receive a one-year family membership to the Arts Center (value of $ 75).
"The community takes this opportunity to engage with motivated young volunteers while discovering the galleries of the Arts Center with new perspectives," said McDermott. "Teenage docents should have a great experience interacting with our visitors; I think we're all going to have fun learning from each other.
The historic Carnegie Library opened in 1916 and is today one of the few art centers in the area. Carnegie's programs include exhibitions, classes and educational programs, lectures and activities in artistic genres as diverse as dance, music, theater and more. At least 25% of all programming is dedicated to children and adolescents. The Carnegie Arts Center Foundation is a 501 (c) (3) non-profit organization. The Carnegie is located at 250 N. Broadway in downtown Turlock.