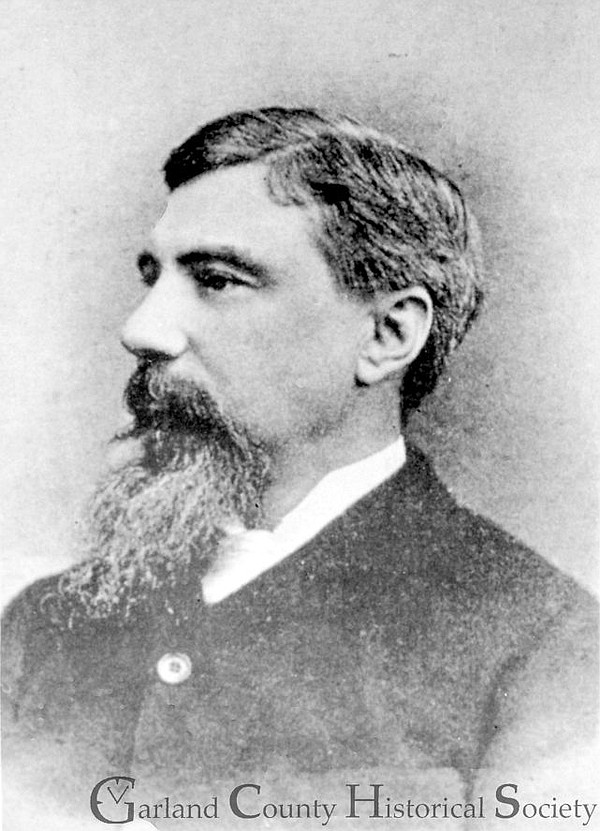 Late in the night of 1863, an exhausted Union cavalry officer searched the crowded city of Nashville, Tennessee, looking for a hotel room. An employee of the Commercial Hotel took pity on him and offered to let him use his own cot. The officer later wrote: "I was so grateful for this act that later I loaned him money which allowed him to start in life." The officer was Samuel Fordyce. The young clerk was Samuel H. Stitt.
In 1873 Fordyce first visited Hot Springs. When he visited the Hot Springs Hotel, he was delighted to see that his co-owner was young Stitt. Fordyce decided to move to Hot Springs and became a major force in its development. Less well known today, Stitt was also a key figure who helped make Hot Springs a premier resort town.
Impressed by the possibilities of what was then a small dilapidated wooden town, Stitt had moved to Hot Springs around 1868. With Major William H. Gaines, in 1870 he built the Hot Springs Hotel, our first modern hotel and the greatest of this moment. But Stitt and Fordyce saw a need for even bigger hotels here, so they teamed up to build the first Arlington hotel.
The graceful wooden structure, with 200 rooms, was Arkansas' tallest hotel. In 1892, they razed this Arlington and erected the second Arlington in red brick for the colossal price of $ 550,000. For many years, the only year-round hotel in Hot Springs, the hotel has hosted Bat Masterson, Babe Ruth, General John Pershing, Jack Dempsey, Andrew Carnegie and other notable figures. Stitt was its managing director until his death in 1913.
As his obituary noted, Stitt had always "believed strongly in the future of the station." He had proven it by investing in it with all his heart. He owned part of the Mountain Valley Water Co., the streetcar company, the splendid Eastman Hotel (which he managed), the Big Iron Bath House, the Hot Springs Country Club, and other local businesses. He was one of the founders of the Arkansas Bank and Trust Co. He joined the First Volunteer Fire Company in 1877 and was an active Mason and member of St. Luke's Episcopal Church. He was the founder and president of the Business Men's League. And, in 1875, he found personal happiness by marrying Major Gaines' daughter, Augusta, with whom he had five children.
Looking for a trace of Stitt today? See the Stitt-Patterson House at 824 Park Ave. Completed in 1877 and listed on the National Register of Historic Places, the two-story log home is a fine example of eclectic Victorian architecture. Then meet at 516 Central Ave. and admire the 1895 hewn limestone Stitt building, one of only two structures in the city center with a stone facade. The building housed the Clyde Hotel, Moses Mendel's dry goods store, and Taylor's Art Gallery, among others, and now houses Petals, Purse, etc.
Stitt changed Hot Springs by offering accommodations suited to a first-class resort. He was also one of the pioneers of modern marketing techniques and understood what a city has to offer its visitors. One of the visionaries who created the modern hospitality industry, Samuel H. Stitt is worth remembering for the city he did so much to create.
For more information, the Garland County Historical Society can be contacted by email at [email protected], call 501-321-2159 or garlandcountyhistoricalsociety.com.
Gallery: Tour of Time: Samuel Stitt