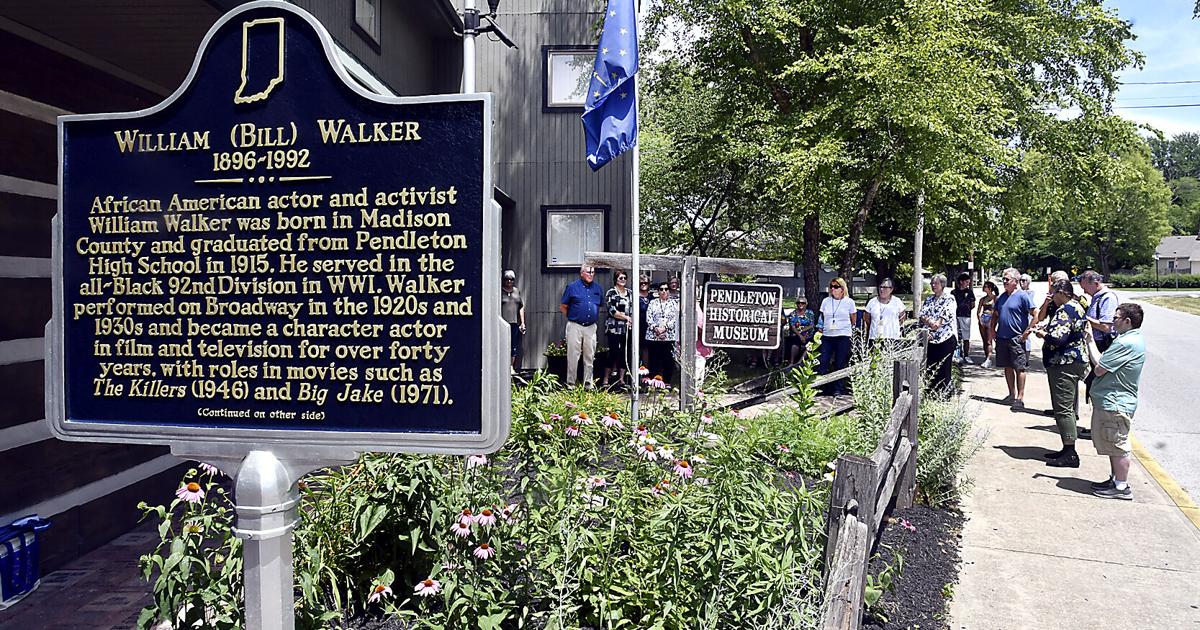 'To Kill a Mockingbird' actor honored with marker at Pendleton | Local News
PENDLETON — When Brian Williams bought and restored his Victorian Water Street home, he may have become the guardian of a Hollywood legacy.
The house where he lives is believed to have once been occupied by Pendleton native William Franklin "Bill" Walker, an actor best known for his role as Reverend Sykes in the classic 1962 film, 'To Kill a Mockingbird'.
For that reason, Williams was delighted to be a major donor for a marker honoring Walker which was dedicated on Friday in the garden outside the Pendleton Historical Museum.
"Jeanette (Isbell) and I had been close for a long time before I bought the house, and I was excited when she shared her story," he said. "Also, as a lawyer, I was struck by the connection to 'To Kill a Mockingbird'.
Isbell is vice president of the museum.
Walker joins other Hoosier screen legends, including James Dean, Carole Lombard and Steve McQueen, whose Indiana roots have been recognized with markers sponsored by the Indiana Historical Bureau.
His is one of more than 700 markers honoring Hoosiers' achievements statewide. It is Madison County's sixth historical marker and third in five years.
DEEP ROOTS
Walker's family roots in Pendleton ran deep. His grandfather, a former slave who had served in an all-black Union Army brigade during the Civil War, came to the area from North Carolina in the 19th century, Isbell said.
"We don't know why they came to Pendleton, but we think it may have been because of the Quakers," she said.
Born in July 1896, Walker became the first African American to graduate from Pendleton High School in 1915. He then studied at Butler University.
However, his studies were apparently interrupted by the First World War. He served in the US Army's 92nd Infantry Division, becoming one of the Buffalo Soldiers who served in France.
Legend has it that Walker was working for the U.S. Post Office by day and as a singer and bandleader in a small band by night when he was approached by a talent agency scout. One day, rather than go to his day job at the post office, he went to visit the talent agent instead.
Although the agent's secretary tried to discourage him, the agent finally emerged from his office and said to Walker, "I wonder why you never came to see me.
Walker spent the 1930s studying theater at Columbia University in New York where he also worked on Broadway as a stage manager and actor.
He made his first film appearance, an uncredited role, in the 1945 film "The Killers," starring Burt Lancaster and Ava Gardner. He then became a character actor, making over 100 film and television appearances over the next 40 years.
Walker married Peggy Cartwright, a Canadian child actress of the silent film era, best known for her appearances in the first "Our Gang" shorts in 1922. Their marriage was one of the first interracial marriages in Hollywood.
Walker died on January 27, 1992 at the age of 95. He is buried alongside his wife at Riverside National Cemetery in Riverside, California.
LASTING LEGACY
Based on Harper Lee's 1960 Pulitzer Prize-winning Southern Gothic novel, "To Kill a Mockingbird" is a courtroom classic and one of the most widely read books on racial inequality.
But Lindsey Beckley, outreach coordinator for the Indiana Historical Bureau, said that although Sykes is his most famous role, Walker's influence went far beyond that single film or even his movie career in general. From the late 1940s, he became a civil rights activist.
"He spent nearly two decades as a board member of the Screen Actors Guild, a position he used to advocate for better roles for black actors," she said. "He knew that representation in media, whether it's television, film, or even Indiana's state historical markers, is important, something IHB is also dedicated to."
Working alongside the man who would one day become President Ronald Reagan, Walker lobbied Hollywood executives for more roles and partnered with the National Association for the Advancement of Colored People to put end to racial stereotypes in movies. Walker's crusade led to the addition of a non-discrimination clause to SAG's theatrical deal.
Isbell said obtaining the marker took three years, delayed by the COVID-19 pandemic.
"When I came to the museum board, we knew some things about William Walker, but nothing in-depth," she said.
That changed when Cartwright sent the museum a lengthy biography of her husband.
"The more we learned about William Walker, the better the story, not only about William Walker but about his family as well," Isbell said. "It was really one of those stories that we thought we had to save because a lot of people probably don't even know who he is."