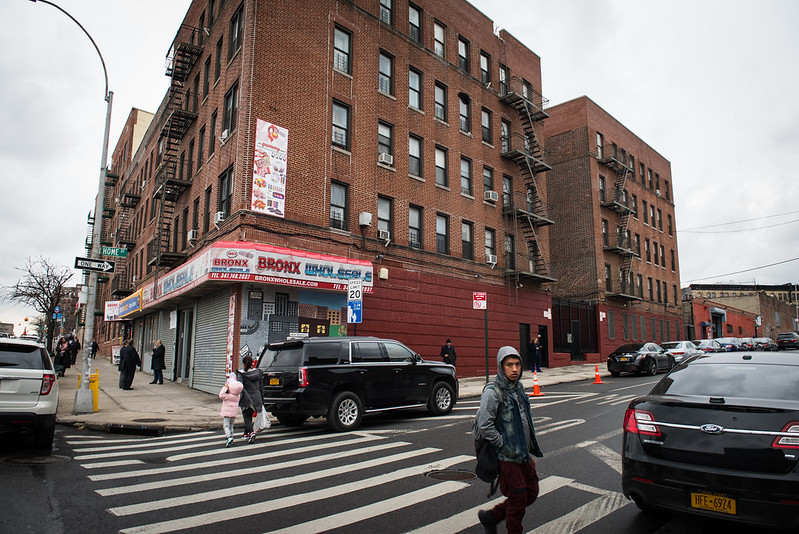 Two Housing Budget Items City Council Should Push Adams Administration On
Housing in the Bronx (photo: Edwin J. Torres/Mayoral Photography Office)
---
When the New York City Council's Housing and Buildings Committee holds its first preliminary budget hearing on Monday morning, it will be held amid severe economic uncertainty for many New Yorkers. Inflation rose nearly 8% last month, driven by soaring food and energy prices, putting immense pressure on low- and middle-income families, even as the labor market remains robust for the workers. Rents are also on the rise, in some cases reaching up to 33% between January 2021 and 2022.
In New York, this uncertainty is also driven by a familiar cause: a rapidly worsening affordable housing crisis that has left households strapped for cash for decades. The statistics are familiar, but that doesn't make them any less poignant or requiring special attention.
About half of New York's renters spend a third of their income on rent, making them particularly vulnerable to inflation and economic shocks. Very low-income households charged with rent have on average only $560 of residual monthly income left over after rent. Families feel the most pressure at the supermarket. Many still have unpaid rent arrears accumulated due to loss of work or wages during the pandemic, putting them in a financial stranglehold: New York's Emergency Rental Assistance Program needs 1 .6 billion to help tenants. It is a crisis of evictions which smolders under the economic crisis.
Simply put, we have no hope for a real recovery that works for everyone without first addressing the city's housing emergency. City Council will have a big role to play – and they should lead by example as we await details of Mayor Adams' first comprehensive long-term housing plan. Fortunately, there is a clear action plan.
First, city council members should pressure Mayor Adams to keep his campaign promises. During the election campaign, Mayor Adams told the United for Housing coalition he would double the city's spending on housing to $4 billion. He knew it was a smart and fiscally responsible way to improve lives and create jobs. In his preliminary budget, however, he did not add any capital to the Housing Preservation and Development Department (HPD) at all – it was unchanged from Mayor de Blasio's final budget.
It's disappointing, but it's not the last word. Council pressure would go a long way towards realizing this vision and providing relief to voters who are in dire need of more housing options, better living conditions and housing assistance to make ends meet. It would also help improve conditions at the New York City Housing Authority (NYCHA). This pressure campaign should start tomorrow.
Second, the Council should ensure that housing policy agencies are staffed and resourced to be effective and as productive as possible. A recent analysis by the New York Housing Conference shows that the city is sorely missing the mark in this area, and it is New Yorkers who pay the price every day because of the inefficiencies it causes.
Consider that the Human Resources Administration (HRA) is over 1,600 workers short of its budget appropriation, the HPD over 300, and the Homeless Services Department over 100. Worse still: many of these vacancies are in critical areas. Staffing shortages are delaying New Yorkers' access to much-needed services and preventing much-needed affordable housing projects from coming online. If vacancies continue to go unfilled, we will see a decline in affordable housing production at a time when it is needed more than ever.
The Council should push the administration to put in place a plan to quickly staff agencies, which could mean providing flexibility for temporary hires; increase agency autonomy to hire staff without redundant reviews by the Office of Management and Budget (OMB) and be more competitive with private sector salaries by allowing managers to offer salaries within a range salary and not only at the bottom of the scale. In this tight labor market, the government cannot be competitive without changing hiring rules.
Shortages also make it harder to be efficient. The Citizens Housing and Planning Council (CHPC), for example, found that it takes an average of 430 days from the time residents start applying for an affordable housing lottery for all units to be occupied. The Supportive Housing Network of New York (SHNNY) estimates there are 2,500 vacant serviced apartments while 8,000 eligible applicants in need wait. Addressing these shortages — along with other bureaucratic inefficiencies — will help get New Yorkers into homes faster.
This is just a small sample of what is needed to respond to the housing emergency. More needs to be done to address homelessness and address the embarrassing conditions at NYCHA. But by fighting for these two common-sense solutions, the City Council can step up and support New York's tenants and lay the foundation for a better and fairer city overall.
***
Rachel Fee is executive director of the New York Housing Conference. On Twitter @RachelFee4NY & @TheNYHC.
***
Have an opinion idea or submission for Gotham Gazette? E-mail This email address is protected from spam. You need JavaScript enabled to view it.