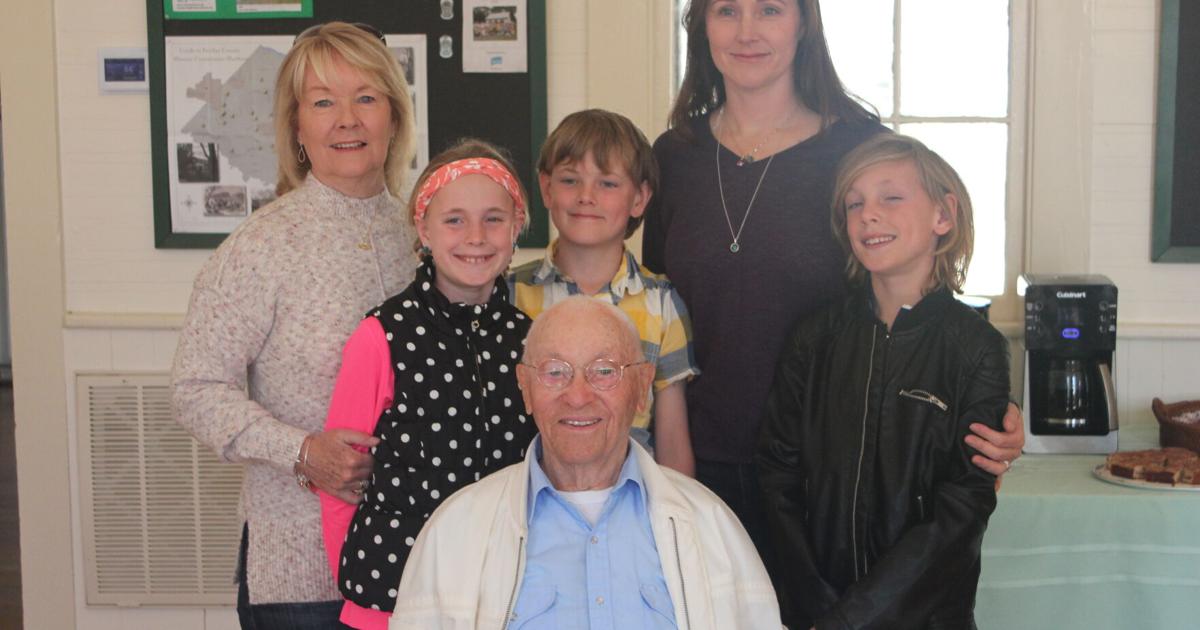 Vale Schoolhouse welcomes back Stan Proffitt | Fairfax County
IIt was a homecoming like none other Vale School had seen on March 16, where former student Stan Proffitt, a longtime resident of the area, toured the grounds that provided him with part of his early education.
It had been many years since former students had returned to the school, the doors of which closed to students a decade before World War II. That makes Proffitt, who is 103, likely his last surviving pupil.
Vale School was built in 1884. Its immaculate condition makes it the best-maintained two-room building of its kind in Fairfax County, which was recognized on the National Register of Historic Places in 2011.
As the community grew, the school added the second, smaller hall in 1912. The county school board then decided to close the smaller schools and consolidate students into the larger ones, which resulted in the end of the school's classes in 1931.
The building was left derelict for four years until a group of local women moved in to convert the school into a new meeting space. In 1938, the women's organization bought the property and reopened it to the community.
Since then, the building and its grounds have served as a bustling social hub, hosting a range of events such as annual fairs and community activities. Events are hosted by the all-female Vale Club, which has operated continuously since the building reopened. The grounds are owned by the non-profit arm of the group, Friends of Vale Schoolhouse.
Among the club's leaders was Proffitt's mother, Clyde, whose name is on a list of past presidents that hangs in the main room. She served from 1947 to 1949.
With his extended family reunited and a delighted audience of Vale Club members, Proffitt recounted his days growing up in Fairfax County, swaths of which were defined by rolling fields amid thick woods, multi-acre farms and dirt roads.
"How much time do we have?" asked Proffitt. "There is electricity in the building now," replied Darlene Williamson, a historian for the organization. "We can stay as long as we want."
The school, which consists of two halls, was divided by grade levels and led by one teacher each, Proffitt said. A small room adjacent to the main space housed the first and second years, and the larger room accommodated classes from the third through seventh, which Proffitt said had about 50 children.
At the time, he had to travel more than three kilometers from the family farm or ride a horse to get to class. The farm provided most of what the family needed, and he went to the store for a few select items. "If we went to the store, it would be for flour, cornmeal, salt, pepper and sugar. It would be anything but if you went to get feed for cows, chickens or horses," recalls Proffitt.
Her mother ordered most of the other products from the Sears and Roebuck catalog, which served the dual purpose of toileting in the school outhouse.
Classes at school were mixed and her favorite subject was math. "Some of the desks were wide enough for two people to sit on," Proffitt said, "and boys would never sit next to a girl."
Today, the building sits atop a small hill at the junction of Fox Mill Road and Vale Road in Oakton, directly across from Vale United Methodist Church.
Attached to the church is a cemetery, where Proffitt recognized some familiar names.
"I passed by the cemetery and knew pretty much everyone there," laughed Proffitt.
His visit made it possible to fill in certain gaps in the historical record. For example, while historians previously believed that a wood-fired oven that helped heat the building was located along a back wall, Proffitt revealed that it was actually in the center of the room, where students and the teachers were shoveling wood to keep the fire going.
After leaving Vale School, Proffitt attended classes at the only nearby Fairfax County High School, and as World War II unfolded, Proffitt sought to join the army. The cataracts kept him away.
So Proffitt moved to Detroit and was hired by the Hudson Motor Car Company. Shortly after, he built planes to support the war effort. He returned to Fairfax in 1949, then moved to Kansas for about a decade. He then retired and returned to live in the same house in Fairfax.
Over his many years of life, Proffitt has witnessed a lot of changes in his home and his return has brought a flood of memories. "There are so many memories, it's hard to explain it," he said.
"I remember going down Stuart Mill Road on a trolley, with a load of vegetables." In addition to a few chickens slaughtered on the farm, he made deliveries to attorneys and other customers in Fairfax. "It was a day trip."
"I remember going to the Waple House," he said, the house of his classmate George Waple. If that name sounds familiar, it's because Waples Mill Road was later named after his family. "An automobile couldn't cross that road, but a wagon could," Proffitt said, as the cars sped by.
"Everything was then done by hand," he added. "We had no electricity or running water in our house until I left the house."
His visit was just part of an extensive tour of Virginia, where his descendants, including three Florida triplets great-grandchildren and their parents, visited sites including Jamestown and Monticello.
When asked what he hoped they learned from this visit, he replied, "Things change so fast. It's incredible."
Soon after, Proffitt returned to the family car, where the trip would continue. They were going to have lunch before making a few more stops.
At the end of the trip, Proffitt planned to return to his residence in Manassas.
It's not far from his nearby relatives, who can easily visit him at his home, where he lives alone.