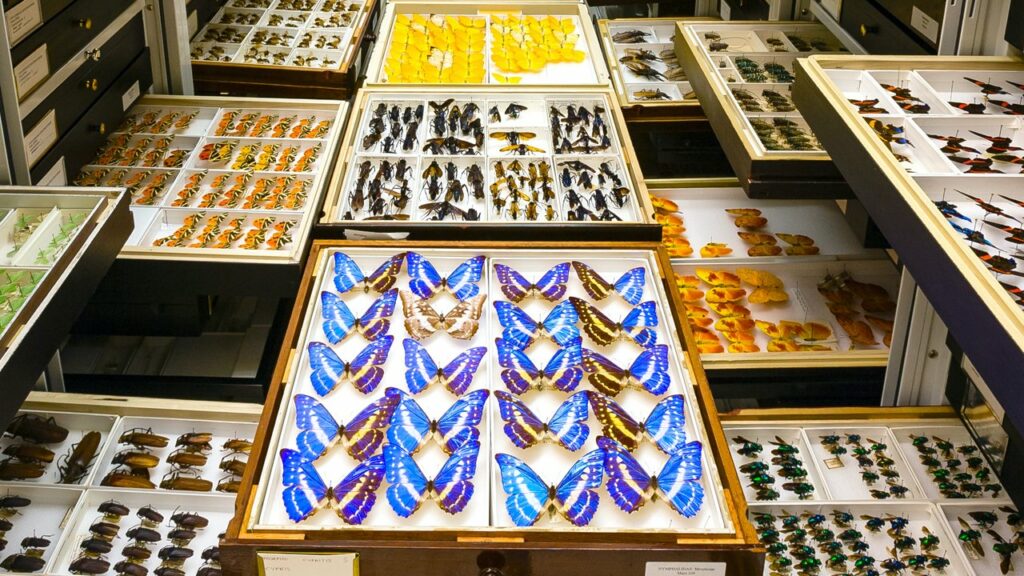 Why 99% of Smithsonian specimens are hidden in high security
Museums are the memory of our culture and they are the memory of our planet. – Dr. Kirk JohnsonDirector, Smithsonian National Museum of Natural History
For many of us, natural history museums are emblematic of school trips or outings in the rain with (or as) children.
There's always something to glean from the reconstructed dinosaur skeletons, dazzling minerals and century-old specimens on display.
Educational prospects are even greater for scientific researchers.
The above entry in Business InternThe Big Business series of takes us behind the scenes of the Smithsonian Natural History Museum, a federally funded institution where more than 99% of its vast collection is housed in the basement, upper floors and employee wings of the exhibition floors, or at an off-site facility in neighboring Maryland.
The latter is poised to provide a safe space for more of these treasures, as climate change-related flooding poses an increasingly serious threat. The location of the museum's National Mall, which attracts more than 6 million visitors a year, is now virtually at sea level, and Congress is moving at a pace once known as glacial to approve costly but structural improvements. needed to protect these valuable collections.
The museum currently has some 147 million specimens and is continually adding more, through field collections, donations and purchases made with endowments, although as a non-profit institution it is rarely able to outbid deep-pocketed private collectors at auctions of hot items like large dinosaur bones.
The Division of Birds daily mail brings "snarge" samples – whatever is left when a bird collides with an aircraft.
Upon arrival at the Smithsonian, regardless of size or market value, each item goes through an inspection process called "accession."
After that, it is meticulously cleaned.
Beetles in an offsite Osteo Prep Lab get to work on residual organic materials like skin and tissue.
Human experts use a portable air-scraping tool to gradually separate fossils from the rock matrix in which they were discovered
The goal is the permanent storage state.
Geological specimens are classified according to Dana's system of mineralogy and stored in drawers. High value items are assigned to the Blue Room or the Gem Chest.
Bones looking to spend most of eternity on a shelf are outfitted with custom fiberglass and plastic cradles to protect them from pests, humidity, and gravity-related stress fractures.
The entomology department dries and pins incoming insects, arachnids and myriapods and stores them in hydraulic carts.
Mammals, reptiles, fish and birds are stuffed or marinated in alcohol.
Many objects in the museum's collection date from the beginning of the 20th century.
Today, staff strive to preserve as much as they can, using all the tools and scientific advances at their disposal. Carla Dove, ornithologist and feather identification specialist, says: "It is our responsibility to do everything we can with the specimen if we want to collect it from the wild for research.
These careful preparations ensure that the largest natural history collection in the world can continue to serve as a living library for thousands of visiting scientists… climate change permitting.
Access to the collections and databases of the Natural History Museum results in the publication of hundreds of research articles and the identification of hundreds of new species each year.
In addition to providing valuable information for research initiatives on topics such as disease transmission, volcanic activity and, of course, the effects of bird strikes on aircraft, museum staff strive to preserving every item with digital scanning – 9 million and counting…
Related Content
The Smithsonian Design Museum digitizes 200,000 objects, giving you access to 3,000 years of innovation and design history
The Smithsonian puts 2.8 million high-resolution images online and in the public domain
Smithsonian digitizes and lets you download 40,000 works of Asian and American art
The Smithsonian chooses "101 objects that made America"
– Ayun Halliday is the chief primatologist of East Village Inky zine and author, most recently, of Creative, Not Famous: The Little Potato Manifesto. Am here @AyunHalliday.