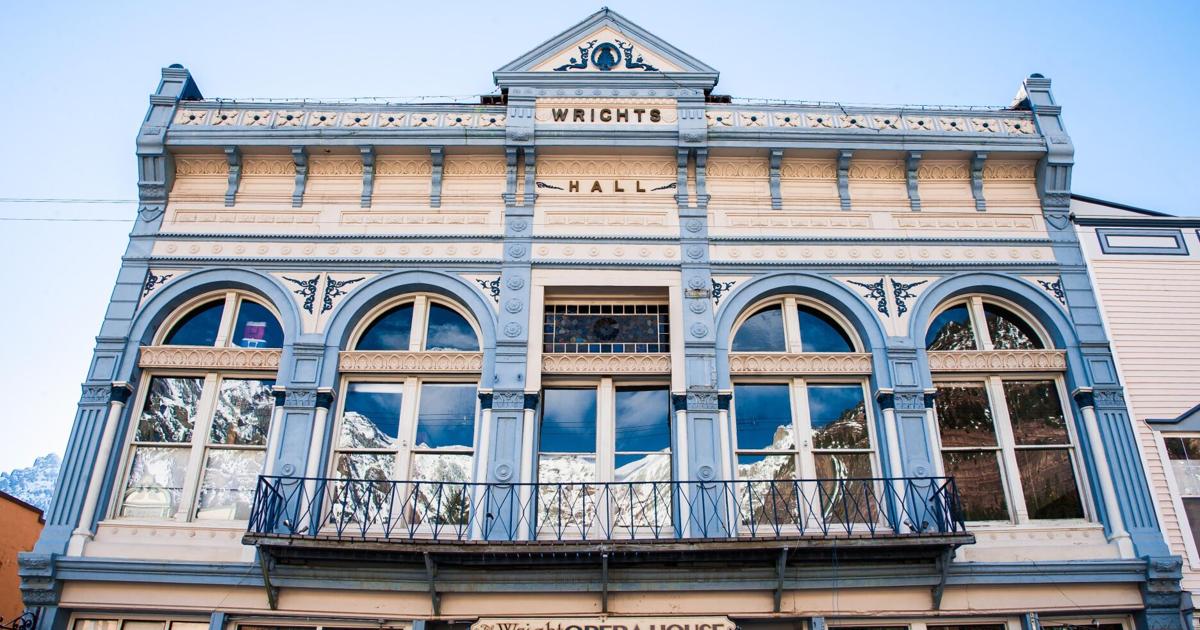 Wright Opera House Receives Governor's Award for Historic Preservation | Culture & Leisure
The elegant and imposing Wright Opera House has been a mainstay of downtown Ouray for over a century. Originally intended to provide cultural programming unlike the saloons, gambling, and other less savory types of entertainment ubiquitous in mountain towns at that time, the building later housed a gymnasium; a Masonic lodge; a confectionery business; a dry goods company; and even a Texaco gas station (a gas pump was conveniently located right out front on the sidewalk).
In a highfalutin and more mundane (but never immoral) way, the Wright has always served the local community, in other words (on Saturday it will livestream a rock climbing competition to be held at Ouray Ice Park).
It's likely that brothers Ed and George Wright, who built the building that bears their name in 1881, would be happy to hear this latest twist: not only is the opera house still thriving more than a century later, but it received an award for successfully retaining – even polishing – its past incarnations. After years of restoration, the building received the 2022 Governor's Award for an "exemplary" historic preservation project.
The Governor's Award – the highest honor from a small group of annual recipients Stephen H. Hart, named for the state's first historic preservation officer – "recognizes the Wright Opera House as the best" in "preservation historic, honoring historic art and the implementation of appropriate preservation techniques and effects," a press release read. The award will be presented to Wright staff and board of directors at the History Colorado Center in Denver this spring.
The fun is that it happened at all, said Wright President Kate Jones.
"What's crazy is that this price came out of nowhere," Jones said. "We used the historic state funding process to help us with this monumental (restoration) project. They maintain a list and keep an eye on the development of fellows. They kept an eye on the Wright and, to my surprise, we won this award.
She learned about it by e-mail a few months ago. "He was like, 'Dear Kate Jones, Congratulations!'" Jones recalled.
She immediately became suspicious. "I was like, 'What is this?'" Jones recalled. "I read a little further and realized, omigosh, they recognize us for this work! How exciting!
A team of filmmakers from History Colorado quickly followed up: "They said, 'We'd like to interview you.' They sent a team to Ouray last month. It was great fun. (Vice Chairman of the Opera Board) Kit Meckel, who was really integral to the building process, was interviewed, as was (Executive Director) Alyssa Preston.
The plan is to use the footage on the History Colorado website, show it at the ceremony in Denver, and possibly in a documentary for Rocky Mountain PBS.
"I was there, ready to be on camera, but they didn't need me," said Jones, who was a movie manager in Los Angeles before moving to Ouray. "I'm in a B-roll .")
Along with the camera crew, representatives from History of Colorado will return to Ouray for more footage of the Wright and — in movie jargon — interviews with men on the street later this spring. The main event will be a community award for Main Street Opera. "They'll make a day out of it," Jones said. "They celebrate us in our own town." There will also be the presentation of, you know, a real prize, although Jones does not yet know where he will go. "We haven't talked about that, but I'm still watching our fireplace," she said. "I'm sure we'll find a nice sort of shadow box, a permanent place for her to be. This award is exciting for us and for the community," added Jones. "We are a non-profit organization. Everything we do is for the enrichment of our fine arts and our culture. Seventy-five percent of the funds for the restoration of the building came from donations from the local community.
To see a list of events at the Wright Opera House, visit thewrightoperahouse.org.